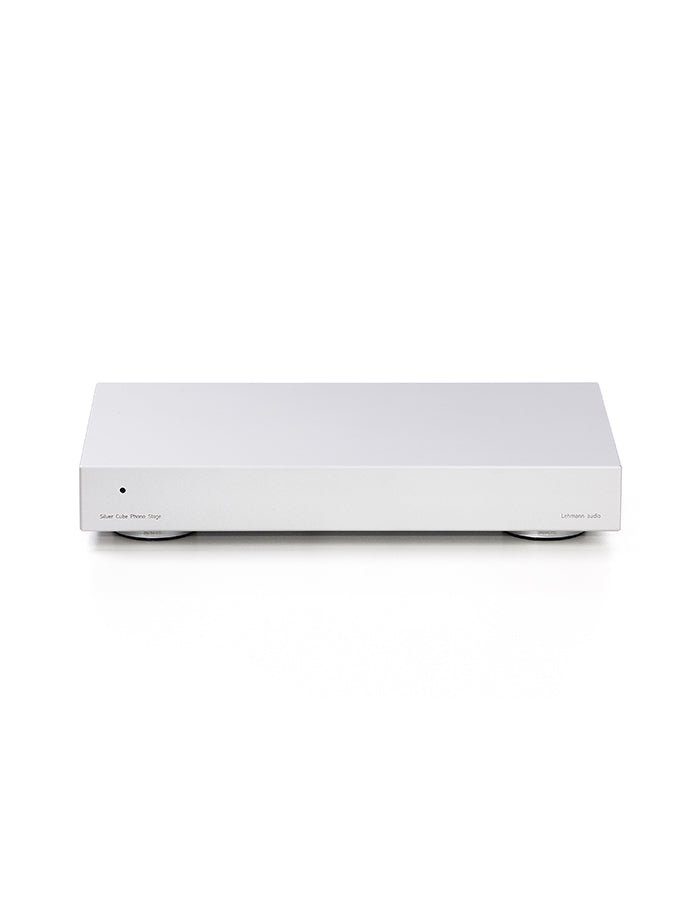 Lehmann Silver Cube
1 In stock
The Silver Cube plays in the league of the world's consummate phono stages. Dressed in a noble guise and with finest components, it delivers an excellent sound and thus clearly belongs to the best things that can happen to your records. Look forward to a priceless musical experience, let yourself get carried away by the masterful acoustic performance of our attractive top model.
The listening delight provided by your records is a very unique experience for you which can only be compared to the magic of a live concert? Besides concentrated energy you also expect matchless transparency, a captivating wealth of detail and a spectacular three-dimensional reproduction of space when enjoying your favourite LPs? Then the Silver Cube offers you everything you ever dared to dream of.
Excellence all the way
To make the Silver Cube perfect, we have put our decades of experience and all our audiophile passion in the balance. Like always we use the best components from first-class makers. With love for detail we have optimised circuits and raised the mechanical system to a downright masterful level.
The Silver Cube can display its excellence in combination with almost any MM and MC systems available on the market. For this purpose the adjustable gain between 36 dB and 66 dB gives you the necessary flexibility. Finest ingredients such as high-grade Mundorf tin foil capacitors in the filtering network, mica capacitors in the input section, WBT Nextgen sockets for the signal connection and vibration-damping feet from SSC: these are important, yet nowhere near all reasons for the top performance one can experience with the Silver Cube. In any case, one thing soon becomes clear: the Silver Cube is not suitable for fault compensating chains.
The adaptations described provide breathtaking dynamics, excellent specifications as well as an impressively holographic imaging. The sheer elegance of this phono stage once again shows in its high-class aluminium design. It does not only serve as a heatsink for the discrete class-A output stage with no overall negative feedback, but also makes the Silver Cube the visual the star of your high-end system.
Sensitivity for output level 775 mV/0 dBu (with activated high gain switch)
Gain 1 kHz
Maximum input level 1 kHz
Signal to noise ratio (RMS unweighted) MM: 3.8 mV/1 kHz; MC: 0.38 mV/1 kHz
MM: 46 dB; MC: 66 dB
MM: 50 mV; MC: 5 mV
MM: 78 dB; MC: 69 dB
Gain 36 dB, 46 dB, 56 dB, 66 dB
Channel separation > 80 dB at 10 kHz
Input impedance 47 kohms, 1 kohm, 100 ohms
1 x custom load
Output impedance 5 ohms
Input capacitance 47 pF to 1,370 pF
Channel mismatch typ. max. 0.1 dB
Bass filter 50 Hz, 6 dB/oct.
Power consumption app. 15 VA
Outer dimensions W x D x H Audio section: 300 mm x 195 mm x 48 mm
Power supply: 112 mm x 312 mm x 80 mm
Weight Audio section: 2.25 kg
Power supply: 2.8 kg
"Eye candy: The Silver Cube shines with technical und visual substance"
---
"The Silver Cube is expensive, but by no means extravagantly priced compared to some. As far as I can hear, it offers as near faultless performance as makes no difference and can cope with any cartridge/preamp combo you care to throw at it. Some will buy it because it looks so good next to the Black Cube SE, but in fact it's a significant upgrade on that very worthy design."

Read full review