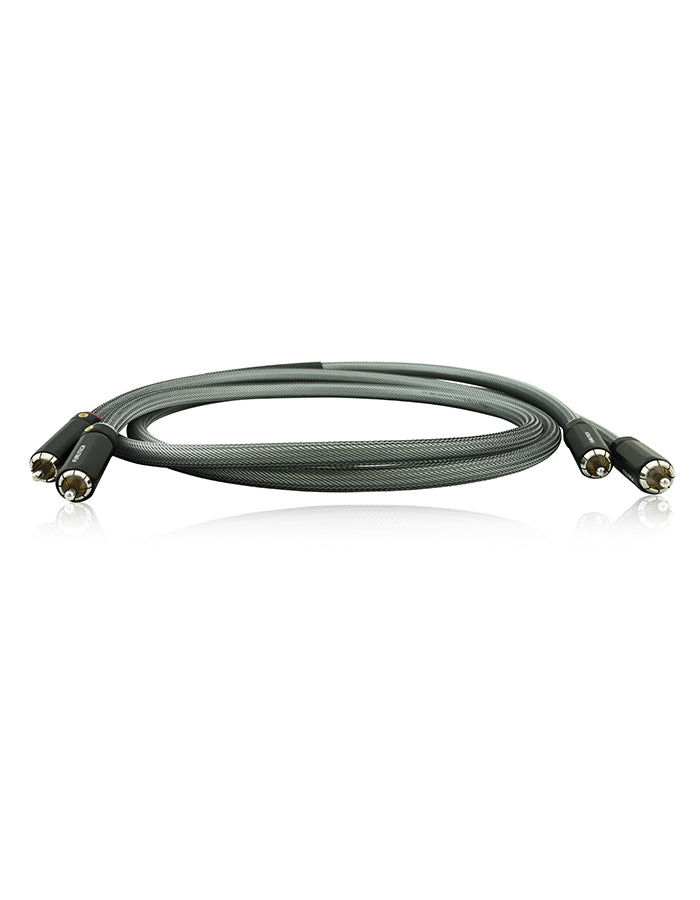 AAC e2.2 Cryo Interconnect Cable Pair Rhodium RCA
Expanding on the success of our popular e2 Series, e2.2 Cryo undergoes a patented process deep cryogenic treatment stabilizing the wire's molecular structure, resulting in superior conductive properties. Experientially, this translates to pinpoint sound-staging, enhanced rhythm and pace, engaging dynamics, and articulate bass performance. e2.2 Cryo features Furutech's meticulously built FP-108(R) rhodium plated locking RCA and our award-winning IC-3 UHP silver plated OFC cable at its core. Furutech's Pure Transmission technology and α (Alpha) processing turns a macro lens on signal transfer applying optimized engineering solutions to well-known problems such as contact resistance, EMI and RFI rejection, and grounding, while using the finest materials available for performance audio. A truly superior RCA, FP-108(R) features an OCC rhodium-plated center conductor enhancing the similarly treated cable by allowing signal to flow with minimum alteration. In this case, AAC's award-winning silver plated UP OFC IC-3. Expertly terminated with Mundorf Supreme Silver/Gold Solder, all conductive surfaces treated post assembly with Kontak, and fashionably finished with a durable Carbon Mesh Techflex sleeving, e2.2 Cryo is hand crafted one pair at a time, with pride in San Diego, CA, USA.
DEEP CRYO TREATED FOR THE ULTIMATE LEVEL OF PERFORMANCE
Audio Art's cryo treated e Series takes another evolutionary leap with our e2.2 interconnect. Incorporating a patented process deep cryogenic treatment designed specifically for audio cables and components, and connector parts designed to enhance cryo treated cables, your musical signal will flow through your system, and into your ears with an absolute minimum degree of alteration. The result is a highly musical interconnect with richly refined tonal characteristics, strongly resolved frequency extremes, improved micro and macro dynamic shadings, holographic spatial cues, and more! e2.2 Cryo will transport your music to sublime levels of performance that will have your toes tapping, while doing so at factory direct prices free from consumer funded dealer mark-ups.
FURUTECH FP-108(R) RCA
Furutech's FP-108(R) RCA is a high-performance audio connector offering true innovations and refinements in abundance! With conductive elements made from rhodium plated OHNO Continuous Cast Copper for superior conductivity, FP-108(R) delivers the ultimate in nuance, transparency, and long-lasting durability. Copper alloy housed locking barrels are insulated with fluoropolymer for superior vibration damping and high EMI/RF noise rejection. Exclusive α (Alpha) cryogenic processing provides a perfect mate for the e2.2 Cryo Series interconnects. This combination of highest quality materials and specialized treatment all add up to a superior RCA designed to enhance high-performance audio cables by allowing the signal to come through with a minimum amount of alteration.
THE CABLE AT THE CORE
Multiple stranded, silver-coated OFC copper conductors insulated in an ultra-low loss foamed Polyethylene dielectric, in a low capacitance design. 100% aluminum mylar shielding provides immunity to noise, with an upgraded, durable Techflex jacket.
| | IC-3 Classic | IC-3SE2 | IC-3 e | Statement e IC |
| --- | --- | --- | --- | --- |
| Oxygen Free High Purity Silver Plated Copper Conductors | | | | |
| OHNO Continuous Cast Hybrid 7N Pure Copper and Silver Plated Copper Conductors | | | | |
| Musical Sounding Foamed Polyethylene Insulation | | | | |
| 100% Aluminum Mylar Shielded for Immunity to Noise | | | | |
| Aluminum Mylar and UPOCC Copper Dual Shield for Complete Immunity to Noise | | | | |
| Woven or Mesh Techflex Jacket | | | | |
| High Performance Eichmann Technology RCA's and XLR's | | | | |
| High Performance WBT nextgen™ RCA's and Furutech 600 Series XLR's | | | | |
| Patented Process Deep Cryogenic Treatment by Cryogenics International | | | | |
| Audiophile Grade Cardas Quad Eutectic Silver Solder | | | | |
| All Conductive Surfaces Enhanced with Kontak ECO3x | | | | |
| Custom Shop Assembly by Phil Martinez | | | | |