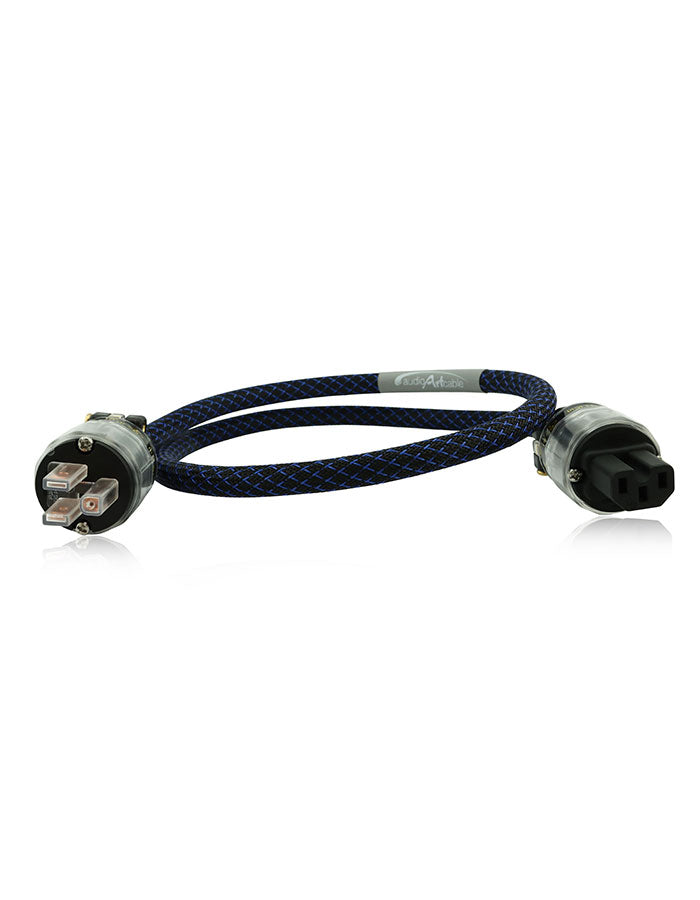 AAC Statement Digital AC Cable with 15A US Male, 15A IEC
The new Statement Digital Ohno Continuous Cast power cable is the ideal cord for your high-performance DAC, Streamer, Digital Clock, DDC, or Digital Interface devices. It's also an excellent choice for low-current draw components such as preamps, and some Class D power amps. Statement Digital is a flexible, 13-gauge cable, featuring a 6N pure single crystal UP-OCC copper / silver plated UP-OCC hybrid geometric array. Terminated with Furutech's alpha processed, un-plated Copper FI-11(Cu) plug set. Toss in AAC's e Series processing: cryogenic treatment, expert termination with Nano Liquid infused cable / terminal connections, and all conductive surfaces treated post assembly with Kontak ECO3x. Fashionably decked out in a durable black 'n' blue Alex Tech braided sleeve. Statement Digital is hand crafted one cable at a time, with pride in San Diego, CA, USA.
THE BEST POWER CABLE FOR YOUR DIGITAL DEVICES AND MORE!
 Statement Digital features a patented process deep cryogenic treatment stabilizing the wire's molecular structure, bringing myriad benefits to the audio enthusiast's listening experience. If you are looking for the very best performance a power cord can deliver and you'd like to ignite the capabilities of an already solid audio system, your search is over with Statement Digital.  Ultra-High Purity Single Crystal Copper is the finest conductive material on the planet to use for power cords.  The design blossoms with Furutech's all copper FI-11(Cu) plug set.  Statement Digital will take your favorite DAC, Streamer, DDC, or Digital Interface to a new level of performance, resulting in a superior listening experience!
FURUTECH FI-11(Cu) PLUG SET
With α (Alpha)-Pure copper Conductors, an Earth (Ground) Jumper System, a nylon/fiberglass front body, plus a polycarbonate shell for extra resonance control, Furutech's products are an essential part of several AAC cable designs.  The Furutech FI-11(Cu) offers their α (Alpha) technology to the more affordable realm. High purity copper conductors provide sophisticated high-resolution sound reproduction, higher signal to noise ratios, and a splash of smoothness and texture making FI-11(Cu) an ideal plug to use for your best digital audio devices offering state-of-the-art performance at a reasonable price.  An ideal power cable for hi-fidelity digital audio.
THE CABLE AT THE CORE
Using the most highly conductive materials on the planet, Ohno Continuous Cast high purity copper in a hybrid array with a small percentage of silver-plated OCC copper strands, our Statement power cable employs a world-patented UP-OCC Technology. UL approved CL3 PVC inner insulation. Dual ultra-low inductance and resistance 13-gauge conductors, and a 13-gauge ground. The inner core of the cable is padded with cotton fiber to eliminate unwanted electro-mechanical vibrations for stable operation. The core is covered with dual shielding - aluminum mylar and a tinned OFC braid for industry best noise reduction.
| | power1 Classic | power1 e | power1SE | power1 ePlus | Statement e2 and e2Plus |
| --- | --- | --- | --- | --- | --- |
| Oxygen Free 11 Gauge High Purity Copper Conductors | | | | | |
| OHNO Continuous Cast 10 gauge Hybrid 6N Pure Copper and Silver Plated Copper Conductors | | | | | |
| Custom Insulation for Improved Clarity and Transparency | | | | | |
| High Performance Non-Conductive CL3 Inner Insulation | | | | | |
| Aluminum Mylar Shield | | | | | |
| Dual Aluminum Mylar and Braided Tinned OFC Shield | | | | | |
| Woven Techflex Jacket | | | | | |
| Patented Process Deep Cryogenic Treatment by Cryogenics International | | | | | |
| Furutech Nano Liquid Enhanced Wire / Terminal Interface | | | | | |
| All Conductive Surfaces Enhanced with Kontak ECO3x | | | | | |
| Euro Shucko Male Available | | | | | |
| Aussie Male Available | | | | | |
| U.K. Male Available | | | | | |
| Custom Shop Assembly by Phil Martinez | | | | | |