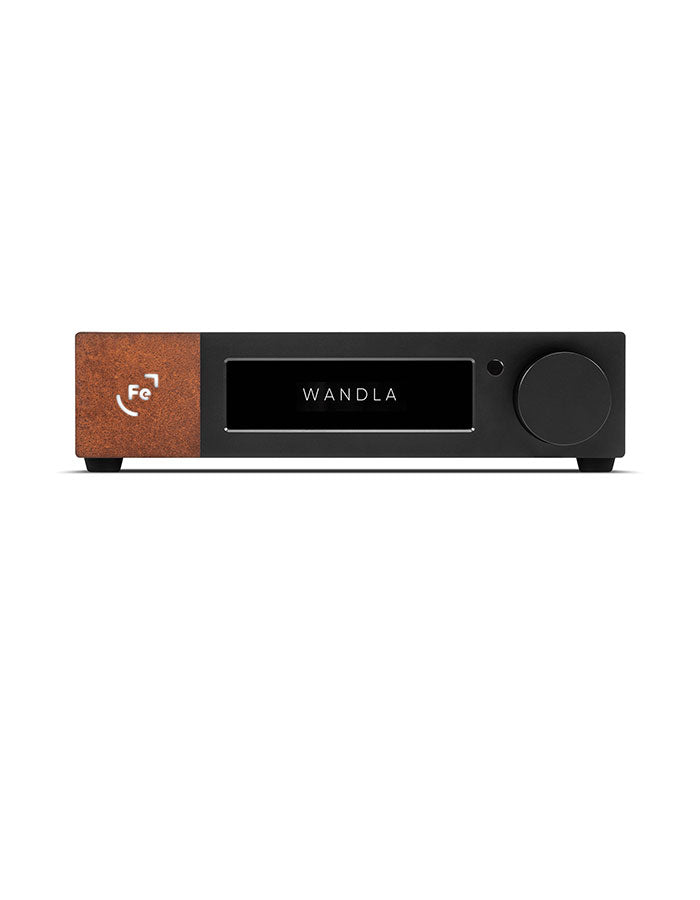 Ferrum WANDLA - Dac/Pre
1 In stock
"With Dynamic Digital Filtering, DDF in short, digital filter maker HQ Player created a total of eight filters exclusively for Ferrum. At the introduction WANDLA will feature three special filter options. We will engage with our community to make new filters available, one by one. Doing this we create a new community of digital filter specialists by interaction with us and their WANDLA's, in search of the best possible, tailor-made sound. This is truly unique to Ferrum, to the category of DA converters and to the hifi community in general."
- Marcin Hamerla (Founder and CEO HEM)
WANDLA represents tomorrow's standard of high end digital-to-analog conversion. Think of WANDLA like a Formula 1 racing car. Like the F1 constructor's team building the best racing car, Ferrum created the best engine for The Converter.
Tomorrow's High End Audio Today: As The Converter WANDLA leads the way for tomorrow's high end offering flagship audio quality at an unprecedented price.
Finely Tuned DA Conversion: WANDLA is the latest exemplar of Ferrum's digital know-how and our in-house-developed analogue audio and electrical technology. The ESS Sabre ES9038PRO combined with Ferrum's advanced new current-to-voltage (I/V) converter compares to units many times its price.
SERCE: Digital audio system module - Our optimized ARM chip offers the shortest signal path possible, making 5 chips redundant. Includes MQA decoder/renderer and digital filter selection.
Dynamic Digital Filtering: WANDLA has three ESS digital filters to choose as standard and, as a world first, two digital filters created for Ferrum by renowned filter-maker HQ Player. More will follow after interacting with WANDLA users.
Optimized Digital inputs: Specially programmed USB, and tuned coaxial and optical S/PDIF, ARC (TV) and I2S ports, optimized for audio.
Truly Balanced: The signal path stays truly balanced using the XLR inputs and becomes truly balanced using the RCA inputs.
Proprietary Amplification: Fully balanced modified IC pre-amplifier, fine tuned for WANDLA.
Ease of Use: Newly developed hi-res touch screen with intuitive UX that is a dream to operate, including remote control.
Enhanced Transparency: The whole design is focussed on a balanced and very transparent sound signature, making listening fatigue something of the past.
Made for HYPSOS: WANDLA performs beautifully right out of the box, but you can take its performance above and beyond when pairing it with HYPSOS. Using the proprietary Ferrum Power Link (FPL) connection with 4T voltage sensing, both components will perform to their absolute maximum, unleashing unheard-of musicality.
Operation: Fully balanced, proprietary IC power amp
DAC chip: ESS Sabre ES9038PRO
DAC resolution: 768k/32bit, DSD 256
Digital inputs:
-AES/EBU (up to 196kHz/24bit, DoP 64)
-Optical S/PDIF (up t/24bit)
-Coaxial S/PDIF (up to 192kHz/24bit, DoP 64)
-USB-C (up to 768kHz/32bit, DSD 256)
-ARC (up to 192kHz/24bit), TV input with CEC
-I2S (up to 768kHz/32bit, DSD 256), PS Audio® compatible
MQA®: decoder and renderer (on all digital inputs)
Analog inputs: RCA
Analog input Vmax: 9,5V RMS (2 – 3,5V RMS recommended)
Analogue input imp:47kΩ
Line outputs: balanced XLR; unbalanced RCA
Volume control: analogue with bypass option / digital for DAC operation only
Output level: @0dBFS, 1kHz sine 9,3V RMS balanced, 4,65V RMS unbalanced
Frequency response analong inputs: 10Hz – 200kHz +/- 0,1dB
DAC THD: 121dB (0,00009%); THD+N: -115dB (unweighted)
Analog input THD: 123dB @ 2V RMS output level
Dyn. range analog: 127dB (A-weighted)
Dyn. range digital: 127dB (A-weighted)
Crosstalk: 120dB for 1kHz, better than -100dB for 20Hz -20kHz
Output impedance: 22Ω unbalanced
Output impedance: 44Ω balanced
Power consumption: 10W idle / 15W max
Power inputs: 5,5/2,5 mm DC connector centre positive proprietary FPL 4-pin DC connector (FPL), 22-30VDC
Power adapter: 100-240 VAC to 24VDC
Dimensions: 21,7 x 20,6 x 5 cm
(WxDxH): 8.6 x 8.1 x 2.0 inch
Weight: 1,8 kg/3.97 lbs