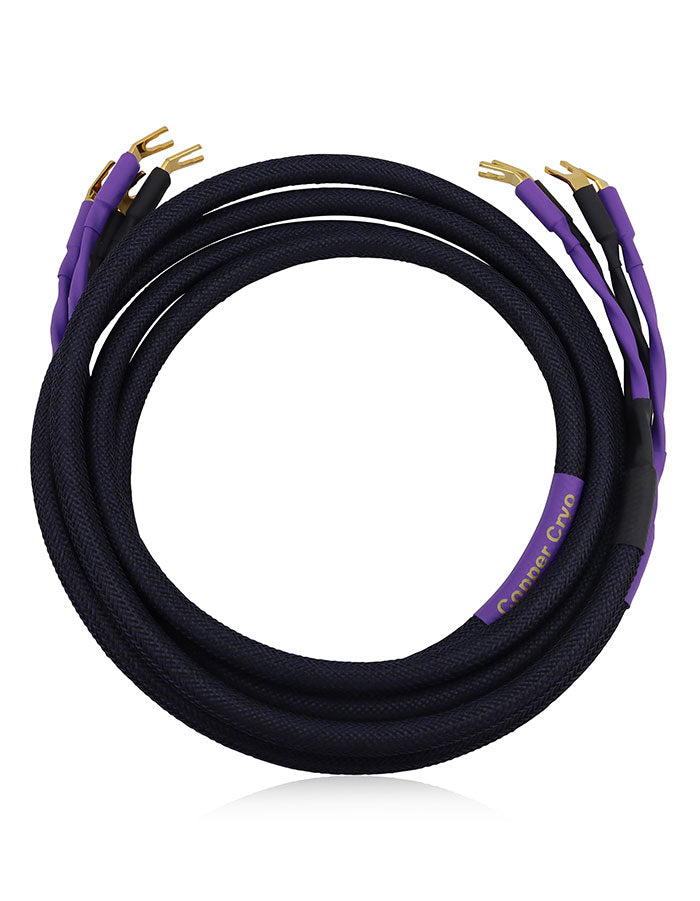 AAC Copper Cryo Speaker Cable Pair Gold Spade
Building on the success of our e Cryo Series cables, our new Copper Cryo Speaker Cables utilize the same patented process deep cryogenic treatment to stabilize the wire's molecular structure, enhancing conductive properties. In your listening sessions, this translates to pinpoint sound-staging, enhanced rhythm and pace, engaging dynamics, and articulate bass performance. Copper Cryo caters to hobbyists who prefer the natural and organic warmth a pure copper cable delivers, while maintaining a highly resolved character. Viborg's precisely crafted VS-702(G) gold plated, copper spades are dual stepped to fit a wide range of binding posts. Ultra-high purity, 4 x 14-gauge Oxygen Free Copper (OFC) conductors at its core make for a robust 11-gauge single wire option, or an internally bi-wired 14-gauge option. Expertly terminated with a solderless Furutech Nano Liquid infusion, trickled down from our Statement Series cables, with all conductive surfaces treated post assembly with Kontak ECO3x. Fashionably finished with a durable Black Magic Techflex sleeving, AAC's Copper Cryo Speaker Cables are hand crafted one pair at a time, with pride in San Diego, CA, USA.
Why cryo treat audio cables?
DEEP CRYO TREATED FOR THE ULTIMATE LEVEL OF PERFORMANCE
Our new Copper Cryo speaker cable features a patented process deep cryogenic treatment stabilizing the wire's molecular structure for superior signal conductivity. Cryogenic treatment of audio cables carries over to the listener's experience as pinpoint sound-staging, superior rhythm and pace, improved clarity, life-like dynamics, and a well-tuned, robust low-end performance. Viborg's premium high purity copper VS-702(G) spades are gold plated for durability and are dual stepped to fit most amplifier and speaker binding posts. Copper Cryo will provide years of trouble-free high-fidelity performance for your system.
VIBORG VS-702(G) DUAL STEPPED SPADES
Viborg's precisely crafted VS-702(G) spades are made with Gold Plated Pure Copper, resulting in a slightly warmer, more natural, and organic sound. Dual stepped to fit a wide range of binding posts. VS-702 are high quality, heavy gauge forks, ensuring optimal connection and conductivity, and feature a triple plating of gold over OFC Copper, allowing both an excellent electrical conductivity and an excellent resistance to oxidation, delivering superb hi-fi audio performance.
THE CABLE AT THE CORE
Multiple stranded, silver-coated 14 gauge OFC copper conductors insulated with an ultra-low loss foamed Polyethylene dielectric, in a low capacitance design. Vibrational absorbing fill, and a durable midnight blue PVC jacket round out the design.
| | SC-5 Classic | SC-5 SE | SC-5 e2 | SC-5 ePlus | Statement e SC |
| --- | --- | --- | --- | --- | --- |
| Oxygen Free High Purity Silver Plated Copper Conductors | | | | | |
| OHNO Continuous Cast Hybrid 7N Pure Copper and Silver Plated Copper Conductors | | | | | |
| 14 Gauge Conductors | | | | | |
| 11 Gauge Conductors | | | | | |
| Musical Sounding Foamed Polyethylene Insulation | | | | | |
| Woven or Mesh Techflex Jacket | | | | | |
| High Performance Eichmann Technology Kryo Bananas and Kryo Spades | | | | | |
| High Performance Furutech Locking Bananas and Spades | | | | | |
| Patented Process Deep Cryogenic Treatment by Cryogenics International | | | | | |
| Solderless Nano Liquid Enhanced Wire / Terminal Interface | | | | | |
| Audiophile Grade Cardas Quad Eutectic Silver Solder | | | | | |
| All Conductive Surfaces Enhanced with Kontak ECO3x | | | | | |
| Custom Shop Assembly by Phil Martinez | | | | | |