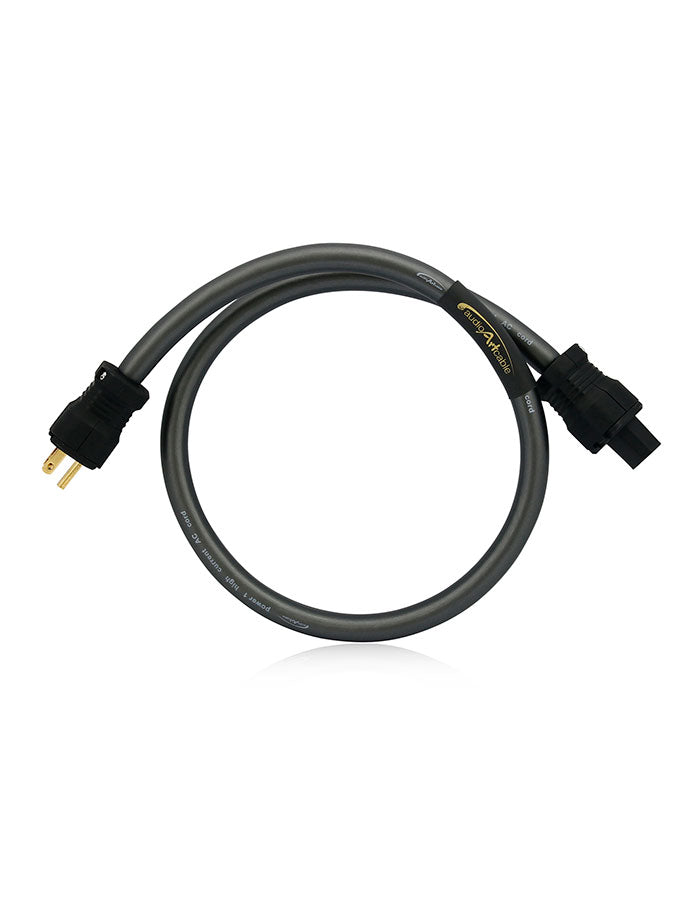 AAC Classic Plus AC Cable with Gold 15A US Male, 15A IEC
A step up from our entry level power1 Classic, our new Classic Plus AC offers a solid performance upgrade with copper based, rhodium or gold plated Furutech FI-15 Plus plug sets, with nano-liquid infused terminations found in our Cryo Treated e and Statement Series models for enhanced conductivity. All this at a price any audiophile can consider. Featuring twin 11-gauge UHP-OFC conductors insulated with PVC, and an 11-gauge ground, with Aluminum Mylar shielding to provide superior noise rejection, and blacker musical backgrounds. Expertly constructed with a custom shop look and feel. Durable and attractive PVC outer. Classic Plus is hand crafted one at a time in San Diego, California, USA.
HIGH PERFORMANCE MEETS HIGH VALUE
Every industry expert and experienced hobbyist agree -- high-performance audio systems do not operate at their full potential with stock power cords. Period. Our Classic Plus AC cables offer a high value alternative to cost conscious hobbyists, with copper-based plug sets typically found only in higher priced alternatives. Your music will take on a brand-new feel with startling, lifelike dynamics, an expansive soundstage, clarity, nuance, and detail retrieval, along with greater bass control and extension, body, texture, and just more realism. More of your music.
FURUTECH FI-15(G) PLUS PLUG SET
Furutech is celebrating their 25th anniversary with the introduction of an updated and improved version of their very first power connectors, the FI-15E series. The new, fresh-looking FI-15 Plus features a new plating technique which delivers sonic improvements with a more durable finish and newly designed cable clamps for firm grip and resonance control. 24k gold-plated α (Alpha) Pure copper Conductor Floating Field Damper System prevents induced magnetic fields. Robust build features a Nylon / fiberglass main body and inner cover plate.
THE CABLE AT THE CORE
Using the finest high purity OFC copper in the world, power1 has twin ultra-low inductance and resistance 11 gauge conductors, and an 11 gauge ground. Noise canceling geometries, and a spiral wrapped 110% coverage aluminum mylar shield provide complete immunity to outside noise. The architecture allows for unrestricted dynamics and current flow. A durable, dark sandstone PVC jacket rounds out the design.
| | power1 Classic | power1 e | power1SE | power1 ePlus | Statement e2 and e2Plus |
| --- | --- | --- | --- | --- | --- |
| Oxygen Free 11 Gauge High Purity Copper Conductors | | | | | |
| OHNO Continuous Cast 10 gauge Hybrid 6N Pure Copper and Silver Plated Copper Conductors | | | | | |
| Custom Insulation for Improved Clarity and Transparency | | | | | |
| High Performance Non-Conductive CL3 Inner Insulation | | | | | |
| Aluminum Mylar Shield | | | | | |
| Dual Aluminum Mylar and Braided Tinned OFC Shield | | | | | |
| Woven Techflex Jacket | | | | | |
| Patented Process Deep Cryogenic Treatment by Cryogenics International | | | | | |
| Furutech Nano Liquid Enhanced Wire / Terminal Interface | | | | | |
| All Conductive Surfaces Enhanced with Kontak ECO3x | | | | | |
| Euro Shucko Male Available | | | | | |
| Aussie Male Available | | | | | |
| U.K. Male Available | | | | | |
| Custom Shop Assembly by Phil Martinez | | | | | |