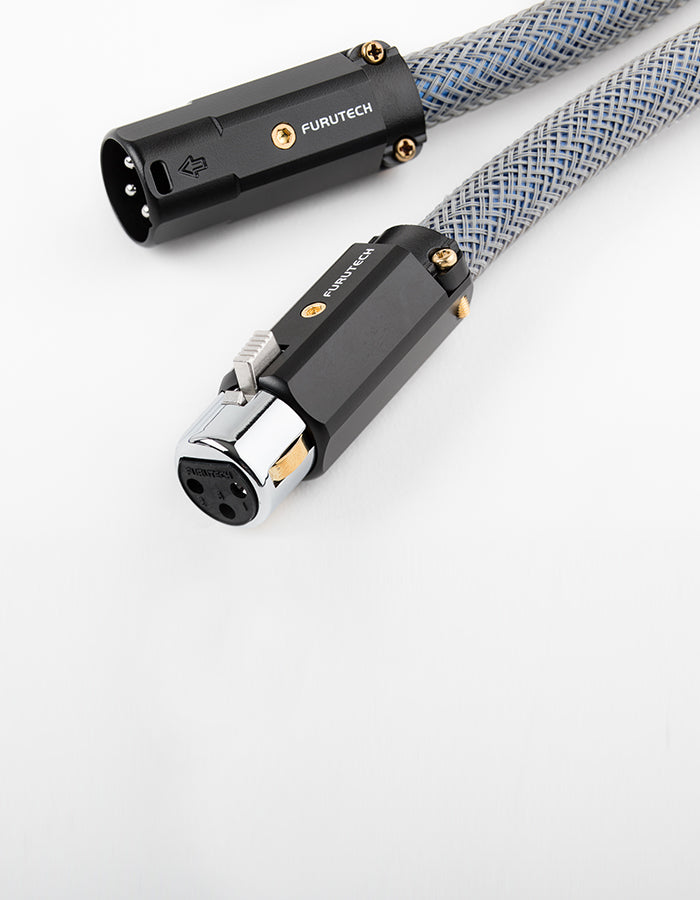 AAC Statement e IC Cryo Interconnect Cable Pair Rhodium XLR
Our flagship design features the finest conductive elements on the planet, OHNO Single Crystal Continuous Cast 7N Copper, in a hybrid array of pure copper and silver-plated copper. "e Series" enhancements of patented process deep cryogenic treatment deep cryogenic treatment for superior transparency, detail, clarity, openness, and more engaging dynamics, plus Nano-liquid enhanced terminations. Premium quality Furutech XLR's are expertly fitted with audiophile grade Cardas Quad Eutectic Solder, with all conductive surfaces treated with Kontak ECO3x Contact Cleaner post assembly. Smartly finished with durable Techflex sleeving, and hand crafted one pair at a time in San Diego, CA, USA, our Statement e IC's will bring out the very best in your high-performance audio system.
THE LAST INTERCONNECT YOUR SYSTEM EVER NEEDS
Uncompromising performance and value are the hallmarks of our  Statement e interconnect, designed to beguile even the most discriminating audio enthusiast. The finest conductive materials in the world, 7N pure, are used in a matrix array of solid core single crystal copper, multi-stranded single crystal copper, and silver plated single crystal copper. The result is a balanced, natural sound. Fluid and organic in its presentation, stunning in its realism, clarity, tonal accuracy, and three-dimensional soundstage.
Furutech FP-601 / 602 (R) High Performance XLR
Furutech's FP-601 and 602(R) XLR's feature beryllium copper and phosphor bronze conductors, with a copper alloy end housing, and PVDF Fluoropolymer insulation.   Rhodium plated contact pins and sockets.  Common to all Furutech parts, their patented α (Alpha) processing features demagnetization and cryogenic treatment that advance conductivity, speed up the transmission of signals, and provide a greater sense of power. Audio signals are enhanced resulting in superior resolution, blacker, noise-free backgrounds, and a vivid sense of shape within the soundstage for instruments and vocalists. Choose FP-601 / 602(R) for a slightly more neutral presentation.
THE CABLE AT THE CORE
Multiple stranded, silver-coated OFC copper conductors insulated in an ultra-low loss foamed Polyethylene dielectric, in a low capacitance design. 100% aluminum mylar shielding provides immunity to noise, with an upgraded, durable Techflex jacket.
| | IC-3 Classic | IC-3SE2 | IC-3 e | Statement e IC |
| --- | --- | --- | --- | --- |
| Oxygen Free High Purity Silver Plated Copper Conductors | | | | |
| OHNO Continuous Cast Hybrid 7N Pure Copper and Silver Plated Copper Conductors | | | | |
| Musical Sounding Foamed Polyethylene Insulation | | | | |
| 100% Aluminum Mylar Shielded for Immunity to Noise | | | | |
| Aluminum Mylar and UPOCC Copper Dual Shield for Complete Immunity to Noise | | | | |
| Woven or Mesh Techflex Jacket | | | | |
| High Performance Eichmann Technology RCA's and XLR's | | | | |
| High Performance WBT nextgen™ RCA's and Furutech 600 Series XLR's | | | | |
| Patented Process Deep Cryogenic Treatment by Cryogenics International | | | | |
| Audiophile Grade Cardas Quad Eutectic Silver Solder | | | | |
| All Conductive Surfaces Enhanced with Kontak ECO3x | | | | |
| Custom Shop Assembly by Phil Martinez | | | | |