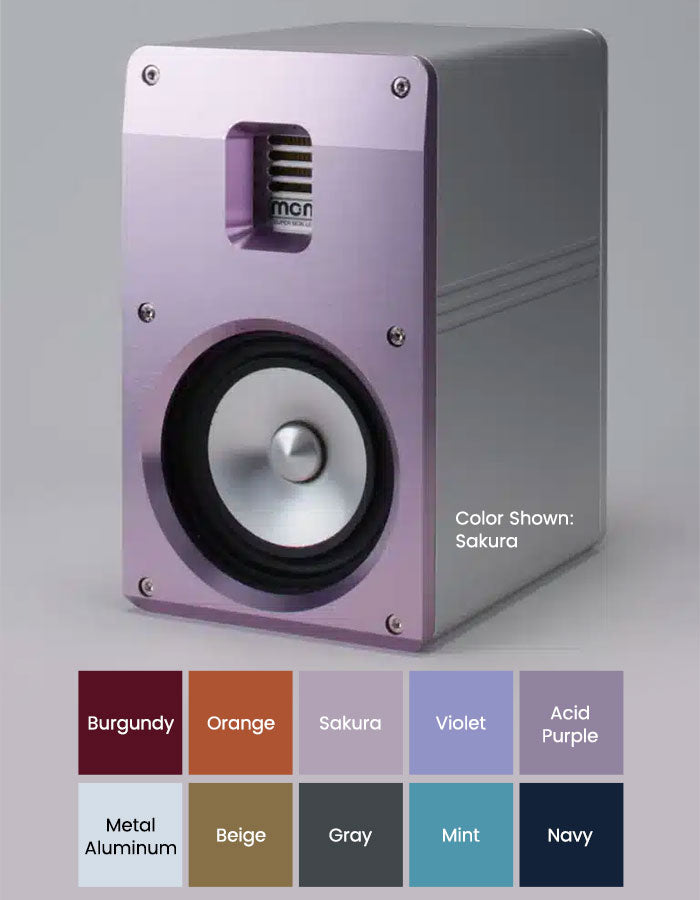 Speakers
SuperMon Mini
1 In stock
Compact Design with a Big Impact
The SuperMon Mini is designed for on-axis nearfield listening experience.
Created by Jun Hyeog Seo (the founder at MonAcoustic and the chief engineer), whose jazz sensibilities and experience as a guitarist certainly come in handy, the SuperMon Mini seeks to combine performance with a compact frame.
The enclosure on the speaker is reinforced with the highest quality materials including a 6601-grade aluminum.
The SuperMon Mini marries top-notch build quality with unrivaled performance to deliver an audio performance comforting your ears.
Metal Aluminum (Silver) and Pink are in stock. Other colors are special order and are delivered in 3-4 weeks.
The SuperMon Mini is designed to reproduce natural sound while achieving a wide range of frequencies from 65 HZ to 25K HZ. It stays true to the high definition of musical tones with dedicated frequency allocations among unit components.
The high-performance in-house designed AMT tweeter produces higher frequencies from 6,800 HZ up to 25,000 HZ.
The main full-range driver consists of a specially coated paper cone that handles low to high frequency from 65 HZ to 6,800 HZ with sensitivity at 88dB. Contained inside are Isobaric networks, with a Mark Fenlon designed 4" harmonic driver.
The SuperMon Mini is packed with an unbelievable sonic impact, offering a minimalistic footprint with a great modern design aesthetic that is suitable for your desk, bookshelf, or any area to fill up with your favorite music.
Though this model is not bass heavy, its isobaric network intends to provide you with full musical experience. Its isobaric design utilizes its rear port to provide you with bass to create harmonics utilizing the wall behind.
Configuration: 2.5 Way Isobaric
Cabinet Material: Aluminum 606 Grade
Face Plate Colors: Silver, Pink
Bespoke Color: Available on request with additional cost
Tweeter Unit: Mon Acoustic designed AMT tweeter
Driver Unit: Mark Fenlon design 4″ harmonic driver
Woofer: Mark Fenlon design 4″ woofer
Frequency Range: 65hz ~ 25,000hz
Impedence / Sensitivity: 4 Ohm/ 88dB
Speaker Dimension(inch): 4.72/8.27/6.69
Weight(lbs): 23