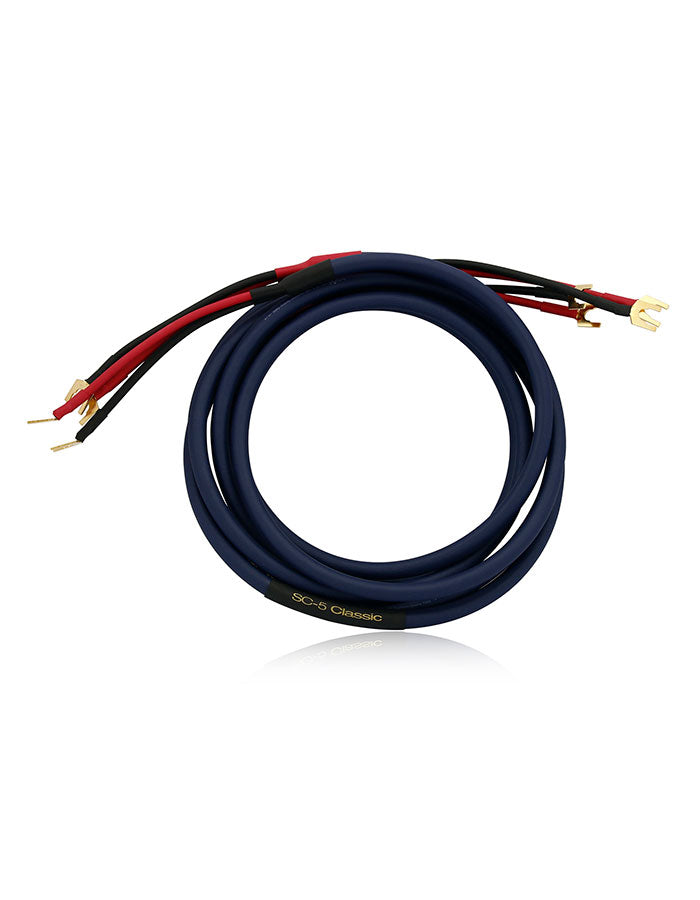 AAC SC-5 Classic Speaker Cable Pair Gold Spade
The original Audio Art speaker cable design features silver-plated 14 gauge high purity OFC conductors, with quality gold plated copper spade terminations that fit all common binding posts sizes. SC-5 offers value and performance to the cost-conscious audiophile. Single wire construction. Hand crafted in San Diego, California, USA.
QUALITY SONICS AT AN ENTRY LEVEL PRICE
SC-5 Classic delivers audiophile quality sonics, at a factory direct to consumer  price. High performance, and high value provide discriminating audio hobbyists an alternative to boutique store cables with dealer mark-ups.  SC-5 brings listener and music together, with a transparent, detailed, dynamic, smooth and musically involving character.  Compared favorably to speaker cables costing many times more by respected industry journalists and consumers alike.
GOLD PLATED COPPER SPADE
Our gold plated spade is made from .999% pure copper with a durable 24k finish, and provides a universal fit for virtually any binding post.  Stepped for both ¼ inch and 5/16 inch diameter posts.  Choose this gold plated option to add a touch of warmth to your sound.
THE CABLE AT THE CORE
Multiple stranded, silver-coated 14 gauge OFC copper conductors insulated with an ultra-low loss foamed Polyethylene dielectric, in a low capacitance design. Vibrational absorbing fill, and a durable midnight blue PVC jacket round out the design.
| | SC-5 Classic | SC-5 SE | SC-5 e2 | SC-5 ePlus | Statement e SC |
| --- | --- | --- | --- | --- | --- |
| Oxygen Free High Purity Silver Plated Copper Conductors | | | | | |
| OHNO Continuous Cast Hybrid 7N Pure Copper and Silver Plated Copper Conductors | | | | | |
| 14 Gauge Conductors | | | | | |
| 11 Gauge Conductors | | | | | |
| Musical Sounding Foamed Polyethylene Insulation | | | | | |
| Woven or Mesh Techflex Jacket | | | | | |
| High Performance Eichmann Technology Kryo Bananas and Kryo Spades | | | | | |
| High Performance Furutech Locking Bananas and Spades | | | | | |
| Patented Process Deep Cryogenic Treatment by Cryogenics International | | | | | |
| Solderless Nano Liquid Enhanced Wire / Terminal Interface | | | | | |
| Audiophile Grade Cardas Quad Eutectic Silver Solder | | | | | |
| All Conductive Surfaces Enhanced with Kontak ECO3x | | | | | |
| Custom Shop Assembly by Phil Martinez | | | | | |