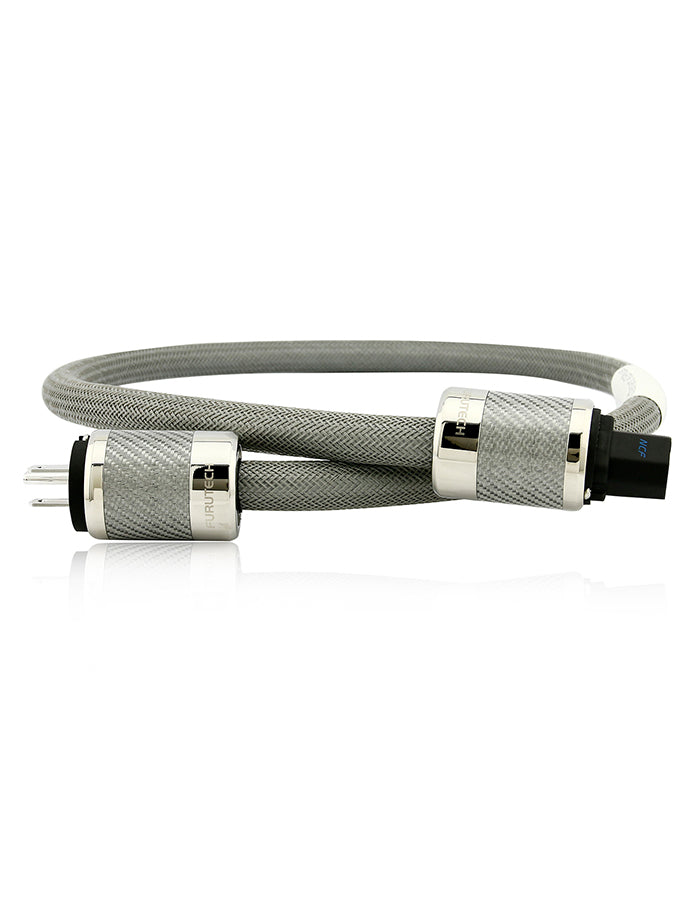 AAC Statement e2Plus Cryo AC Cable with Euro Schuko Male, 15A IEC
What moves our Statement e2 power cable into the realm of flagship worthy performance is the cable itself. A 10 gauge, 6N pure single crystal UP-OCC copper / silver plated UP-OCC hybrid array, mated with hi-fidelity audio's finest power plugs, Furutech Nano Crystal Formula FI-50(R) NCF and FI-48(R) NCF plug sets, and topped off with our performance enhancing e Series treatments. Expertly terminated with a Nano Liquid infused connection, and all conductive surfaces treated post assembly with Kontak ECO3x. Fashionably decked out in a durable Shimmer Techflex sleeving, Statement e2 is hand crafted one pair at a time, with pride in San Diego, CA, USA.
TAKING THE MOST CONDUCTIVE MATERIALS ON EARTH TO A HIGHER LEVEL
Statement e2Plus features a patented process deep cryogenic treatment stabilizing the wire's molecular structure, bringing myriad benefits to the audio enthusiast's listening experience. If you are looking for the very best performance a power cord can deliver and you'd like to ignite the capabilities of an already fabulous audio system, your search can stop with Statement e2 and Statement e2Plus. Ultra-High Purity Single Crystal Copper is the finest conductive material on the planet. Audio Art then chooses two of Furutech's top-line power plug sets to maximize performance. Statement e2 will take your system to new heights, and it will transport you to new and more satisfying listening experiences!
FURUTECH FI-50(R) NCF / FI-E50(R) NCF, THE ULTIMATE POWER CONNECTOR SET
Furutech's Pure Transmission FI-50 NCF Piezo Ceramic series connector bodies and housings feature several breakthrough construction techniques. A multilayer nonmagnetic stainless steel and silver-plated carbon fiber shell incorporates a special damping and insulating acetal copolymer. Furutech settled on stainless and silver-plated carbon fiber for the outer housing after extensive listening sessions with key Japanese industry figures and audio enthusiasts alike. Nano Crystal_ Formula technology features a special crystalline material with two active properties. Static elimination and conversion of thermal energy into infrared, both of which serve to stabilize current flow. This remarkable material is combined with nano-sized ceramic particles and carbon powder for an additional piezoelectric effect, further enhancing the plugs electrical performance by effectively dampening electromechanical energy. Rhodium plating on high purity copper conductors provides sophisticated high-resolution sound reproduction, along with higher signal to noise ratios. Low distortion, high precision sound depiction, high speed response all adds up to a high-performance AC connector with state-of-the-art performance, ideal for hi-fidelity audio. The FI-E50(R) male allows for connection to a European style Schuko receptacle.
THE CABLE AT THE CORE
Using the most highly conductive materials on the planet, Ohno Continuous Cast high purity copper in a hybrid array with a small percentage of silver-plated OCC copper strands, our Statement power cable employs a world-patented UP-OCC Technology. UL approved CL3 PVC inner insulation. Dual ultra-low inductance and resistance 10-gauge conductors, and a 10-gauge ground. The inner core of the cable is padded with cotton fiber to eliminate unwanted electro-mechanical vibrations for stable operation. The core is covered with dual shielding - aluminum mylar and a tinned OFC braid for industry best noise reduction.
| | power1 Classic | power1 e | power1SE | power1 ePlus | Statement e2 and e2Plus |
| --- | --- | --- | --- | --- | --- |
| Oxygen Free 11 Gauge High Purity Copper Conductors | | | | | |
| OHNO Continuous Cast 10 gauge Hybrid 6N Pure Copper and Silver Plated Copper Conductors | | | | | |
| Custom Insulation for Improved Clarity and Transparency | | | | | |
| High Performance Non-Conductive CL3 Inner Insulation | | | | | |
| Aluminum Mylar Shield | | | | | |
| Dual Aluminum Mylar and Braided Tinned OFC Shield | | | | | |
| Woven Techflex Jacket | | | | | |
| Patented Process Deep Cryogenic Treatment by Cryogenics International | | | | | |
| Furutech Nano Liquid Enhanced Wire / Terminal Interface | | | | | |
| All Conductive Surfaces Enhanced with Kontak ECO3x | | | | | |
| Euro Shucko Male Available | | | | | |
| Aussie Male Available | | | | | |
| U.K. Male Available | | | | | |
| Custom Shop Assembly by Phil Martinez | | | | | |