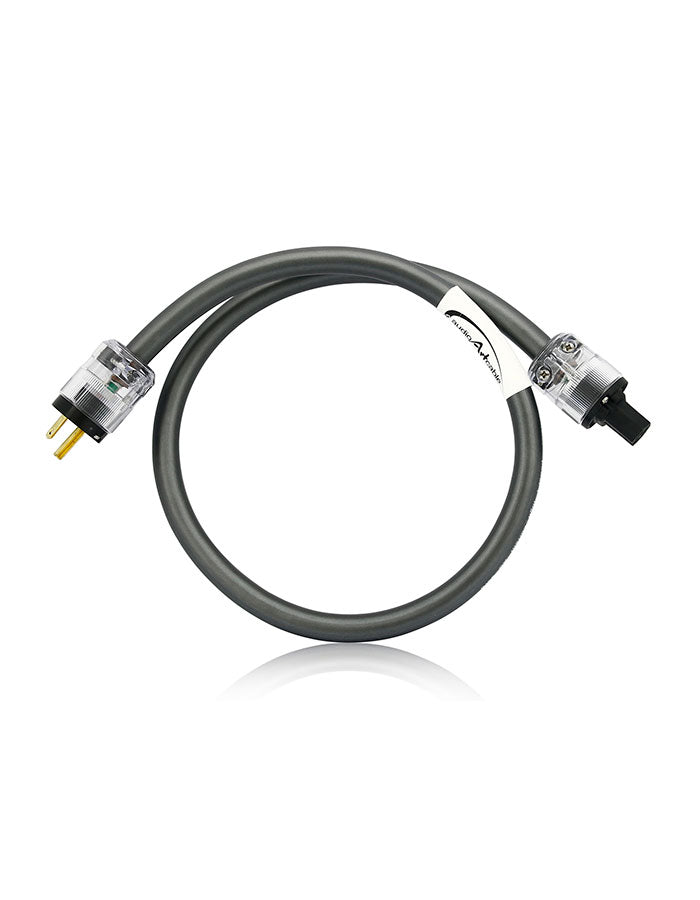 AAC power1 Classic AC Cable with 15A US Male, 15A IEC
Our entry level Classic Series power cable has a lot to offer in a performance power cable, at a reasonable price. Features include twin 11-gauge UHP-OFC conductors insulated with PVC, and an 11-gauge ground, alonmg with Aluminum Mylar shielding providing superior noise rejection for blacker musical backgrounds. Expertly termionated with a quality Wattgate 15A plug set. Durable and attractive PVC outer. power1 Classic is hand crafted one at a time in San Diego, California, USA.
HIGH PERFORMANCE AND HIGH VALUE
A high-fidelity audio system will never reach its full potential with stock power cables. Our power1 Classic delivers a performance oriented, high value alternative to cost conscious hobbyists. More startling, and lifelike dynamics, an expanded soundstage, additional clarity, and greater low-end control and extension are all benefits of power1 Classic. More life, more body, texture, and realism. More of your music. power1 Classic is favorably compared to aftermarket AC cords costing many times more by respected industry journalists and consumers alike.
WATTGATE 5266I / 320I PLUG SET
WattgateÕs highly regarded 5266i / 320i power connector set is reasonably priced, well-built, and delivers strong performance. This plug set features a polycarbonate rear housing, and a glass filled, high temperature nylon front housing. Perma-lock terminals connecting the conductors ensure a quality electrical interface to the cable.
THE CABLE AT THE CORE
Using the finest high purity OFC copper in the world, power1 has twin ultra-low inductance and resistance 11 gauge conductors, and an 11 gauge ground. Noise canceling geometries, and a spiral wrapped 110% coverage aluminum mylar shield provide complete immunity to outside noise. The architecture allows for unrestricted dynamics and current flow. A durable, dark sandstone PVC jacket rounds out the design.
| | power1 Classic | power1 e | power1SE | power1 ePlus | Statement e2 and e2Plus |
| --- | --- | --- | --- | --- | --- |
| Oxygen Free 11 Gauge High Purity Copper Conductors | | | | | |
| OHNO Continuous Cast 10 gauge Hybrid 6N Pure Copper and Silver Plated Copper Conductors | | | | | |
| Custom Insulation for Improved Clarity and Transparency | | | | | |
| High Performance Non-Conductive CL3 Inner Insulation | | | | | |
| Aluminum Mylar Shield | | | | | |
| Dual Aluminum Mylar and Braided Tinned OFC Shield | | | | | |
| Woven Techflex Jacket | | | | | |
| Patented Process Deep Cryogenic Treatment by Cryogenics International | | | | | |
| Furutech Nano Liquid Enhanced Wire / Terminal Interface | | | | | |
| All Conductive Surfaces Enhanced with Kontak ECO3x | | | | | |
| Euro Shucko Male Available | | | | | |
| Aussie Male Available | | | | | |
| U.K. Male Available | | | | | |
| Custom Shop Assembly by Phil Martinez | | | | | |