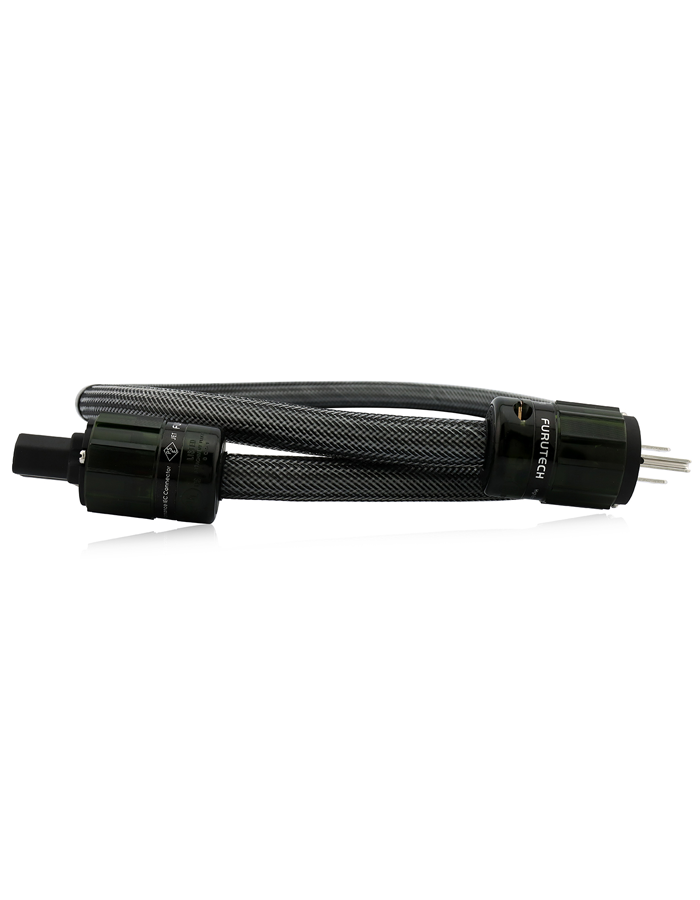 AAC Statement e2 Cryo Jr. AC Cable with Rhodium 15A US Male, 15A IEC
Furthering the evolution of AAC's Statement e2 power cable Series, the new "Jr." remains in the realm of flagship worthy power cable performance, at a more affordable price. As with our top-tier e2Plus model, "Jr." employes our patented Cryogenic treatment, along with 10 gauge, 6N pure single crystal UP-OCC copper and silver plated copper hybrid conductors, but this time gets mated with Furutech's uber-high value FI-28(R) plug set. Trickling down from the e2Plus, "Jr." comes fully equipped with our performance enhancing e Series assembly treatments. Expertly terminated with Nano Liquid infused cable / terminal joints, and with all conductive surfaces treated post assembly with conductivity boosting Kontak ECO3x. Fashionably decked out in a durable Carbon Techflex sleeving, Statement e2 "Jr." is hand crafted one cable at a time, with pride in San Diego, CA, USA.
TAKING THE MOST CONDUCTIVE MATERIALS ON EARTH TO A HIGHER-LEVEL
Statement e2 Jr. features a patented process deep cryogenic treatment, stabilizing the wire's molecular structure, while bringing several benefits to the audio enthusiast's listening experience. If you are in the market for the very best performance a power cord can deliver to further the performance of a top-tier audio system, at a high-value price point, look no further. Ultra-High Purity Single Crystal Copper is the most highly conductive material on the planet. Audio Art then fits "Jr." with Furutech's top-line power plug below their NCF models, to maximize performance. Statement e2 "Jr." will take your high-performance audio system to new, and more satisfying listening experiences. Guaranteed or your money back.
FURUTECH FI-28(R) HIGH-PERFORMANCE PLUG SET
Furutech's Pure Transmission philosophy, along with superb build quality create one of the finest AC plug sets on the market today. Creative engineering solutions for EMI / RFI rejection, and grounding significantly reduce distortion for a clean, stable transfer of current. Pure copper contacts and pins are precision plated with pure rhodium, optimizing electrical conductivity. FI-28's nylon/fiberglass body uses carbon particles to absorb vibration and resonance, while a metal cable clamp improves grip, further reducing mechanically and electrically induced distortions. Furutech's patented α (Alpha) processing demagnetizes, and cryogenically treats the part, improving current transmission, clarity and resolution, and black backgrounds.
THE CABLE AT THE CORE
Using the most highly conductive materials on the planet, Ohno Continuous Cast high purity copper in a hybrid array with a small percentage of silver-plated OCC copper strands, our Statement power cable employs a world-patented UP-OCC Technology. UL approved CL3 PVC inner insulation. Dual ultra-low inductance and resistance 10-gauge conductors, and a 10-gauge ground. The inner core of the cable is padded with cotton fiber to eliminate unwanted electro-mechanical vibrations for stable operation. The core is covered with dual shielding - aluminum mylar and a tinned OFC braid for industry best noise reduction.
| | power1 Classic | power1 e | power1SE | power1 ePlus | Statement e2 and e2Plus |
| --- | --- | --- | --- | --- | --- |
| Oxygen Free 11 Gauge High Purity Copper Conductors | | | | | |
| OHNO Continuous Cast 10 gauge Hybrid 6N Pure Copper and Silver Plated Copper Conductors | | | | | |
| Custom Insulation for Improved Clarity and Transparency | | | | | |
| High Performance Non-Conductive CL3 Inner Insulation | | | | | |
| Aluminum Mylar Shield | | | | | |
| Dual Aluminum Mylar and Braided Tinned OFC Shield | | | | | |
| Woven Techflex Jacket | | | | | |
| Patented Process Deep Cryogenic Treatment by Cryogenics International | | | | | |
| Furutech Nano Liquid Enhanced Wire / Terminal Interface | | | | | |
| All Conductive Surfaces Enhanced with Kontak ECO3x | | | | | |
| Euro Shucko Male Available | | | | | |
| Aussie Male Available | | | | | |
| U.K. Male Available | | | | | |
| Custom Shop Assembly by Phil Martinez | | | | | |