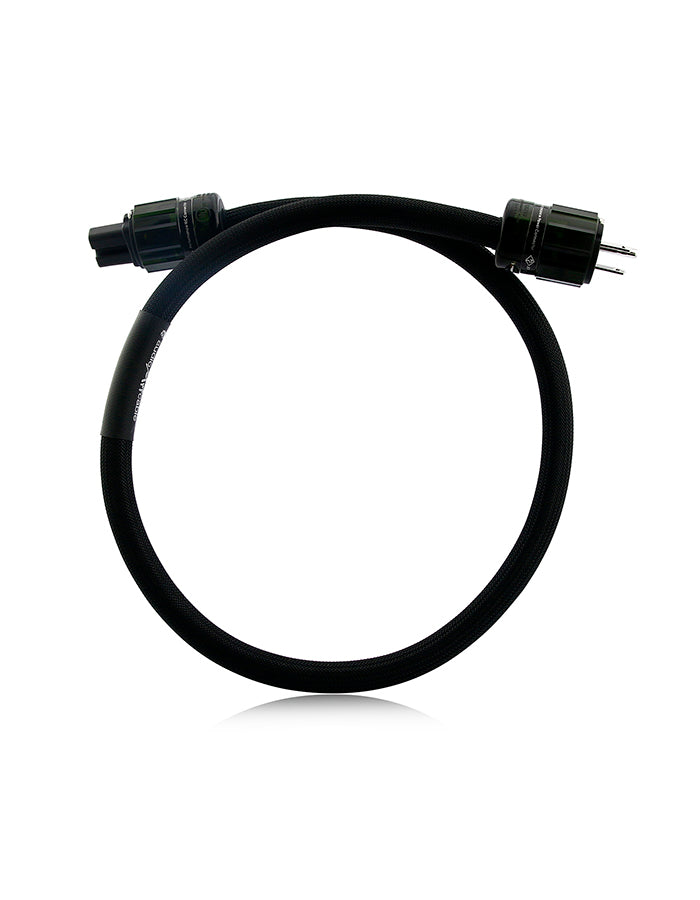 AAC power1 ePlus Cryo AC Cable with Rhodium 20A US Male, 20A IEC
Our enhanced ePlus power cable features a patented process deep cryogenic treatment stabilizing the wire's molecular structure, which carries over on the performance side as pinpoint sound-staging, superior rhythm and pace, more explosive dynamics and slam, along with a robust bass presentation. power1 ePlus takes our enhanced e Series cables to another level with copper-based Furutech FI-28 plug sets. FI-28's high-tech nylon/fiberglass body and polycarbonate shell incorporate carbon particles that absorb vibration and resonance for greater isolation and stability at the receptacle, resulting in a more perfect transmission of electrical currrent. Expertly terminated with a solderless, Nano Liquid infused connection, with all conductive surfaces treated post assembly with Kontak ECO3x Cleaner. Fashionably decked out in a durable Techflex sleeving, power1 ePlus is hand crafted one cable at a time, with pride in San Diego, CA, USA.
DEEP CRYO TREATED FOR THE ULTIMATE LEVEL OF PERFORMANCE
power1 ePlus expands on the design of our popular power1 SE with a patented process cryogenic treatment. Furutech's Nano Liquid suspension enhances current delivery at the cable / terminal hand-off, maximizing quality of the current flow. All conductive surfaces are treated with Kontak brand cleaner, minimizing loss of current and power. The result is greater articulation of rhythm and pace, along with superb control, dynamics, and authority. Tonal characteristics are richly refined and frequency extremes are more completely resolved. Micro and macro dynamic shadings are enhanced, and holographic spatial cues become more lifelike. Techflex jacketing provides additional durability and protection, along with an upscale appearance.
FURUTECH FI-32(R) / FI-32M(R) 20A HIGH-CURRENT MALE/FEMALE PLUG SET
Furutech FI-32(R) / FI-32M(R) High Current IEC and Male Power Connectors allows for connection to components requiring a 20A (C20 style) IEC, and a 20A electrical circuit with a 20A receptacle. This will allow for maximum performance as the manufacturer's design is intended. ** Please check with a professional electrician to answer questions about your electrical system's compatibility ** Furutech's Pure Transmission philosophy, and meticulous build quality create one of the finest AC plug sets on the market today. Creative engineering solutions to EMI / RFI rejection, and grounding significantly reduce distortion for a clean, stable transfer of current. Pure copper contacts and pins, precision plated with 24k gold, optimize electrical conductivity. The nylon/fiberglass body incorporates carbon particles that absorb vibration and resonance, while a metal cable clamp improves grip and further reduces mechanically and electrically induced distortions. Furutech's patented α  (Alpha) processing demagnetizes, and cryogenically treats the part, enhances current transmission, provides greater clarity and resolution, blacker backgrounds, and an improved sense of size, scale, and focus within the soundstage.
THE CABLE AT THE CORE
Using the finest high purity OFC copper in the world, power1 has twin ultra-low inductance and resistance 11 gauge conductors, and an 11 gauge ground. Noise canceling geometries, and a spiral wrapped 110% coverage aluminum mylar shield provide complete immunity to outside noise. The architecture allows for unrestricted dynamics and current flow. A durable, dark sandstone PVC jacket rounds out the design.
| | power1 Classic | power1 e | power1SE | power1 ePlus | Statement e2 and e2Plus |
| --- | --- | --- | --- | --- | --- |
| Oxygen Free 11 Gauge High Purity Copper Conductors | | | | | |
| OHNO Continuous Cast 10 gauge Hybrid 6N Pure Copper and Silver Plated Copper Conductors | | | | | |
| Custom Insulation for Improved Clarity and Transparency | | | | | |
| High Performance Non-Conductive CL3 Inner Insulation | | | | | |
| Aluminum Mylar Shield | | | | | |
| Dual Aluminum Mylar and Braided Tinned OFC Shield | | | | | |
| Woven Techflex Jacket | | | | | |
| Patented Process Deep Cryogenic Treatment by Cryogenics International | | | | | |
| Furutech Nano Liquid Enhanced Wire / Terminal Interface | | | | | |
| All Conductive Surfaces Enhanced with Kontak ECO3x | | | | | |
| Euro Shucko Male Available | | | | | |
| Aussie Male Available | | | | | |
| U.K. Male Available | | | | | |
| Custom Shop Assembly by Phil Martinez | | | | | |