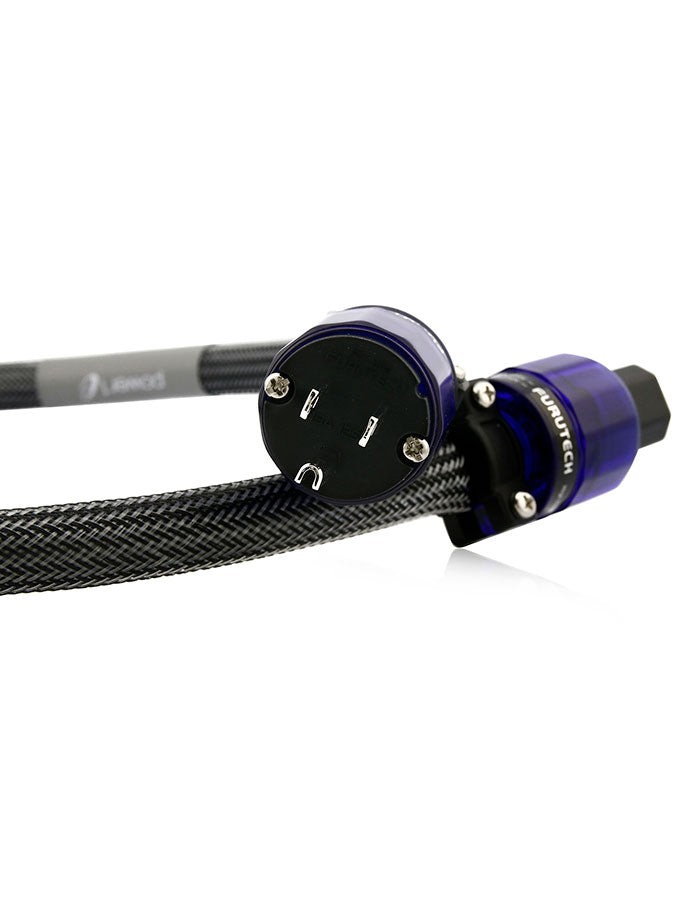 AAC power1 e Cryo AC Cable with Rhodium Aussie Male, 15A IEC
Our enhanced "e Series" power cord features a patented process deep cryogenic treatment stabilizing the wire's molecular structure, which carries over on the performance side as pinpoint sound-staging, superior rhythm and pace, more explosive dynamics and slam, along with a robust bass presentation. While most step-up audiophile power cable designs in the industry continue to feature brass-based plugs, more appropriate for cost-cutting entry level models, we choose high performance, copper-based Furutech plug sets. Copper plugs provide a silky smooth, organic sounding presentation for a far more musically engaging performance. Expertly terminated with a solderless, Nano Liquid infused connection, with all conductive surfaces treated post assembly with Kontak ECO3x Cleaner. Fashionably decked out in a durable Techflex sleeving, power1 e is hand crafted one cable at a time, with pride in San Diego, CA, USA.
Why cryo treat audio cables?
DEEP CRYO TREATED FOR THE ULTIMATE LEVEL OF PERFORMANCE
power1 e expands on the design of our highly regarded power1 Classic with a patented process cryogenic treatment. Furutech's Nano Liquid suspension enhances current delivery at the cable / terminal hand-off, maximizing quality of the current flow. All conductive surfaces are treated with Kontak brand cleaner, minimizing loss of current and power. The result is greater articulation of rhythm and pace, along with superb control, dynamics, and authority. Tonal characteristics are richly refined and frequency extremes are more completely resolved. Micro and macro dynamic shadings are enhanced, and holographic spatial cues become more lifelike. Techflex jacketing provides additional durability and protection, along with an upscale appearance.
FURUTECH FI-11(R)-N1 / FI-AU 3112(R)-N1 HIGH PERFORMANCE PLUG SET
Known the world over for top-quality, high-performance audio parts, Furutech delivers superior results following their Pure Transmission principle: Examine every link in the power path to optimize conductivity for every element in the path. The FI-11(R)-N1 / FI-AU 3112(R)-N1 set features a durable plating technique, and non-magnetic metal clamps for a firmer cable grip and enhanced resonance control. Rhodium plated α (Alpha) Pure Copper Conductors ensure optimum current conductivity, and a Floating Field Damper System prevents induced magnetic fields from altering optimum electrical flow. The (R) plug set's rhodium plating is ideal if a more neutral sounding presentation is preferred. The FI-AU 3112(R)-N1 male allows for connection to an Australian / New Zealand style receptacle.
THE CABLE AT THE CORE
Using the finest high purity OFC copper in the world, power1 has twin ultra-low inductance and resistance 11 gauge conductors, and an 11 gauge ground. Noise canceling geometries, and a spiral wrapped 110% coverage aluminum mylar shield provide complete immunity to outside noise. The architecture allows for unrestricted dynamics and current flow. A durable, dark sandstone PVC jacket rounds out the design.
| | power1 Classic | power1 e | power1SE | power1 ePlus | Statement e2 and e2Plus |
| --- | --- | --- | --- | --- | --- |
| Oxygen Free 11 Gauge High Purity Copper Conductors | | | | | |
| OHNO Continuous Cast 10 gauge Hybrid 6N Pure Copper and Silver Plated Copper Conductors | | | | | |
| Custom Insulation for Improved Clarity and Transparency | | | | | |
| High Performance Non-Conductive CL3 Inner Insulation | | | | | |
| Aluminum Mylar Shield | | | | | |
| Dual Aluminum Mylar and Braided Tinned OFC Shield | | | | | |
| Woven Techflex Jacket | | | | | |
| Patented Process Deep Cryogenic Treatment by Cryogenics International | | | | | |
| Furutech Nano Liquid Enhanced Wire / Terminal Interface | | | | | |
| All Conductive Surfaces Enhanced with Kontak ECO3x | | | | | |
| Euro Shucko Male Available | | | | | |
| Aussie Male Available | | | | | |
| U.K. Male Available | | | | | |
| Custom Shop Assembly by Phil Martinez | | | | | |