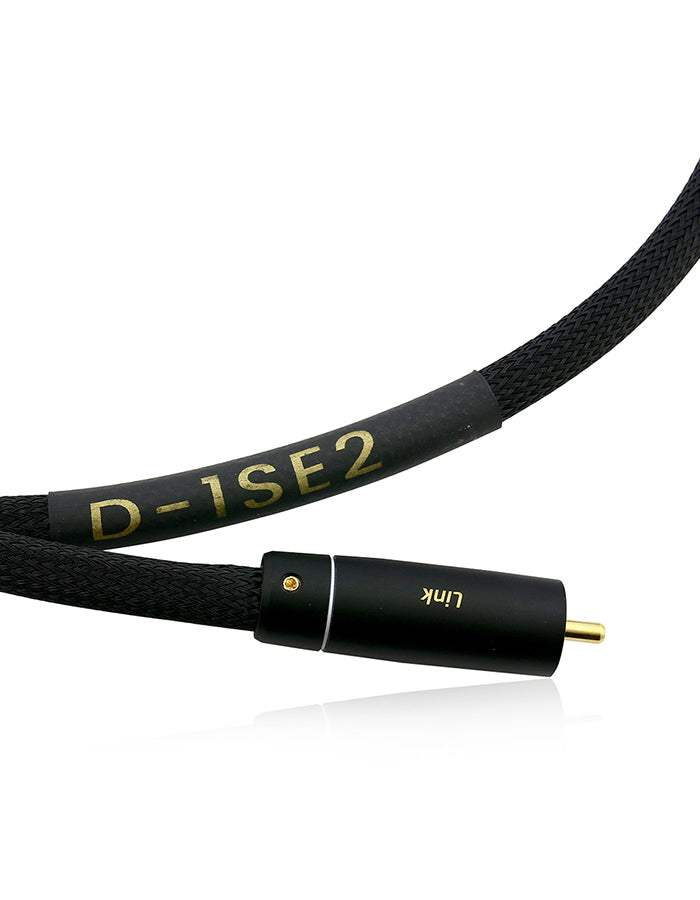 AAC D1-SE2 Digital Coax Cable with Gold RCA to BNC
Audio Art Cable's D-1SE2 advances the lineage of our popular D-1SE, utilizing an ultra-low loss digital coaxial cable, along with some of the industry's finest 75-ohm RCA and BNC connectors, resulting in ultra-precise signal transmission, helping to preserving every nuance in your music collection. Upgrading your digital coaxial cable can greatly improve transmission accuracy of today's complex and sophisticated digital audio data streams, by reducing jitter, and more completely delivering the data to your high performance DAC or processor. Compare the many features of Audio Art's D-1SE2 that make it a superior choice to optimize the performance of your favorite digital audio recordings, music and movies alike. Handcrafted one cable at a time, with pride in San Diego, California, USA.
PREMIUM PERFORMANCE, AFFORDABLE PRICE
Audio Art's D-1SE2 is a precision engineered, 75-ohm coaxial cable designed for accurate transmission of today's high definition digital audio signals. The design begins with a solid, silver-coated OFC center conductor to maintain a uniform 75-ohm impedance, and to minimize signal reflections. This significantly reduces data transmission anomalies such as jitter, which can cause myriad issues in your digital music's fidelity. The center conductor is encased in a closed cell foam FEP dielectric, for ultra-low signal absorption and loss. Noise rejection is maximized by an aluminum Mylar and heavy braid dual layer shield, providing 100% coverage and complete immunity to noise. A custom shop, hand assembled aesthetic, plus an audiophile quality ETI LINK Gold RCA's along with a high-performance Furutech FP-3-117(R) BNC's expertly terminated with Cardas QuadEutectic silver solder insure a beguiling musical performance.
ETI RESEARCH COPPER LINK RCA
The COPPER LINK RCA is the evolution of the famous Eichmann Bullet that had been recognized by many as the finest RCA Connector you can buy. The Link RCA Connector is made from Tellurium Copper, which maintains the connection strength needed to last for years and years without breakage or degradation of audio quality. An aluminum housing makes this new design far more impervious to today's EMI radiation levels floating around every residential audio system. As a result, LINK RCA has exceptionally good EMI/RF noise rejection keeping your digital data signal as clean as it possibly can be. LINK RCA's direct cable-to-pin connection, and star grounding make it an idea choice for digital coaxial cable applications.
FURUTECH FP-3-117(R) HIGH PERFORMANCE BNC
Furutech's precision engineered, audio grade FP-3-117(R) BNC connector is made from some of the finest materials in the industry today, and is designed to deliver the ultimate in high-fidelity digital data transmission. Rhodium-plate copper alloy body with Fluoropolymer PTFE Resin insulation. α (Alpha) Eutectic cast copper alloy center pin, soldered with audiophile grade Cardas Quad Eutectic solder.
THE CABLE AT THE CORE
Statement Digital features a proprietary Single Crystal (OCC) solid silver conductor, offering the highest level of signal purity in a coaxial design. A dual aluminum mylar and copper braid shield ensures complete immunity to noise factors, along with the conductor encased in a musical sounding PTFE dielectric. AAC Statement Digital is one of the most accurate and tonally rich sounding digital cables on the market and is a fantastic choice for any high performance digital audio playback systems.
| | D-1SE2 | Statement Digital |
| --- | --- | --- |
| Solid, Silver-Coated OFC Center Conductor | | |
| Closed Cell Foam FEP dielectric | | |
| Aluminum Mylar and Heavy Braid Dual Layer Shield | | |
| Single Crystal (OCC) Pure Silver Center Conductor | | |
| Dual Copper Mylar / Braided Silver-Plated OFC Shield | | |
| Woven Techflex Jacket | | |
| High Performance ETI LINK Gold and Silver RCA's and Furutech BNC's | | |
| Audiophile Quality WBT nextgen™ RCA's and Oyaide BNC's | | |
| Audiophile Grade Cardas Quad Eutectic Silver Solder | | |
| Custom Shop Assembly by Phil Martinez | | |