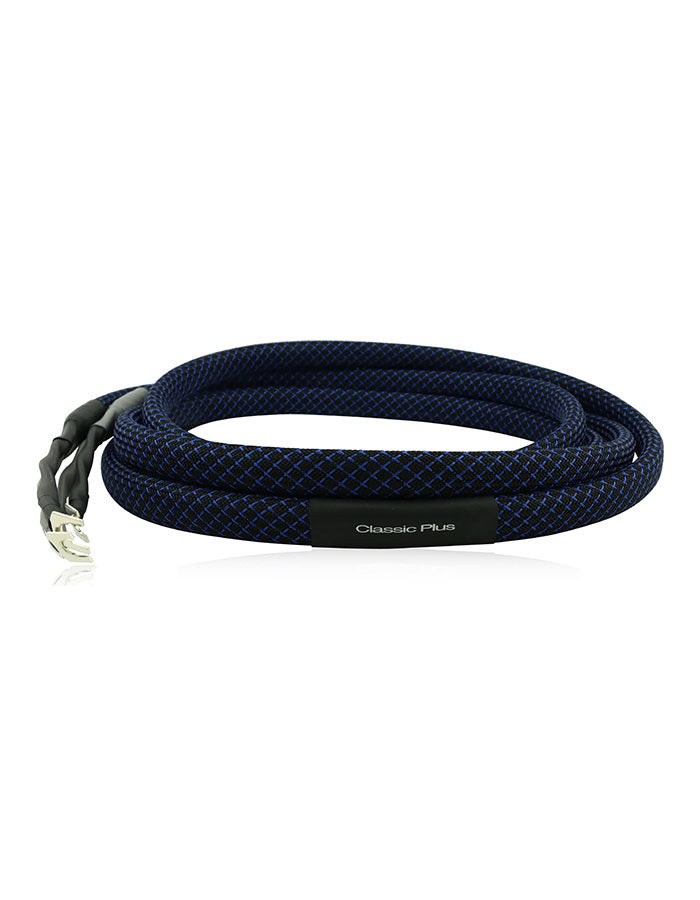 AAC-Classic Plus Double Speaker Cable Pair Silver Spades
Classic Plus Double borrows the DNA of our best-selling Classic Plus speaker cable and ups the ante. Two runs of our award-winning silver plated, UHP OFC SC-5 cable twisted together, forming 11-gauge conductors, amp to speaker make it the perfect solution for audio enthusiasts looking for a quality heavy gauge speaker cable. It's a perfect choice to connect high current amplification with full range speakers, at a price that leaves room in the budget for more system upgrades! Silver Plated Copper dual stepped spades, a stylish and durable Alex Tech braided cable sleeve, along with solderless Furutech Nano-Liquid infused terminations round out the design. Single wire construction. Hand crafted one pair at a time, with pride in San Diego, California, USA.
HI-FIDELITY SONICS, GREAT PRICE
Classic Plus Double delivers a remarkable level of weight, body, dynamics, slam, bass extension and control, and exceptional overall performance. Classic Plus Double immerses the listener in a transparent, detailed, rich, and musically involving sound. AAC's factory direct to consumer prices provide the discriminating audio hobbyist an alternative to boutique store cables sold with dealer mark-ups factored in. Compare this speaker cable to competitive models costing many times more.
SILVER PLATED COPPER SPADE
Our silver-plated spade is made from .999% pure copper with a quality pure silver finish and provides a universal fit for virtually any binding post. Stepped for both ¼ inch and 5/16-inch diameter posts. Choose this silver plated option for a more neutral sound.
THE CABLE AT THE CORE
Multiple stranded, silver-coated 14 gauge OFC copper conductors insulated with an ultra-low loss foamed Polyethylene dielectric, in a low capacitance design. Vibrational absorbing fill, and a durable midnight blue PVC jacket round out the design.
| | SC-5 Classic | SC-5 SE | SC-5 e2 | SC-5 ePlus | Statement e SC |
| --- | --- | --- | --- | --- | --- |
| Oxygen Free High Purity Silver Plated Copper Conductors | | | | | |
| OHNO Continuous Cast Hybrid 7N Pure Copper and Silver Plated Copper Conductors | | | | | |
| 14 Gauge Conductors | | | | | |
| 11 Gauge Conductors | | | | | |
| Musical Sounding Foamed Polyethylene Insulation | | | | | |
| Woven or Mesh Techflex Jacket | | | | | |
| High Performance Eichmann Technology Kryo Bananas and Kryo Spades | | | | | |
| High Performance Furutech Locking Bananas and Spades | | | | | |
| Patented Process Deep Cryogenic Treatment by Cryogenics International | | | | | |
| Solderless Nano Liquid Enhanced Wire / Terminal Interface | | | | | |
| Audiophile Grade Cardas Quad Eutectic Silver Solder | | | | | |
| All Conductive Surfaces Enhanced with Kontak ECO3x | | | | | |
| Custom Shop Assembly by Phil Martinez | | | | | |