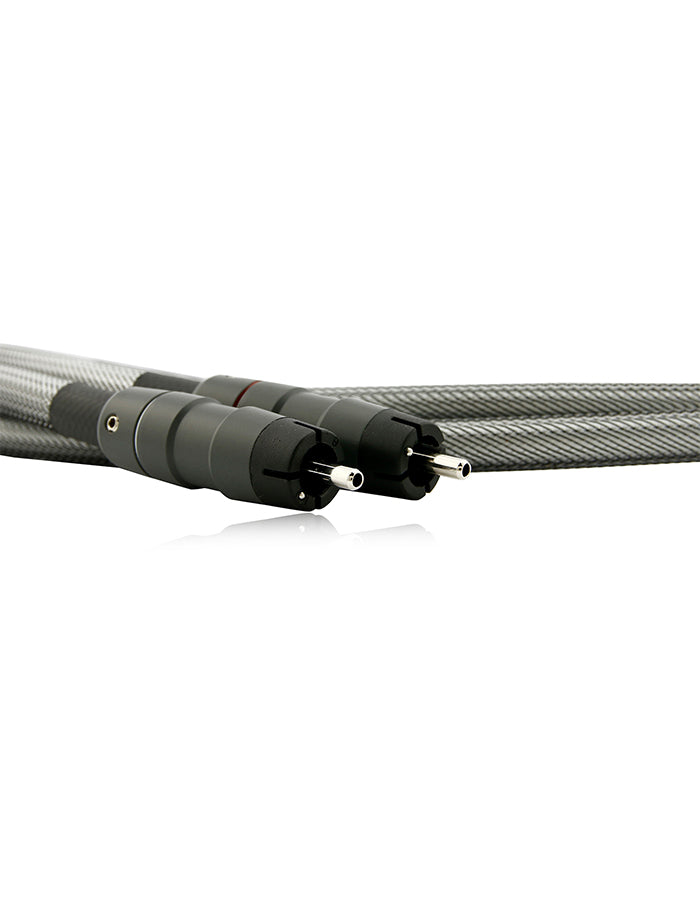 AAC IC-3 SE2 Interconnect Cable Pair Rhodium RCA
Our IC-3SE2 interconnect features the award-winning IC-3 cable with high purity silver-plated OFC conductors. For the series 2 design, we've added a high-performance, rhodium plated tellurium copper Brio RCA from Eichmann Technologies International. These highly refined RCA's offer superior conductivity, and a long-lasting, tarnish free finish. With a robust housing that offers superior vibration damping along with high EMI/RF noise rejection, IC-3SE2 delivers a clear, transparent, tonally accurate presentation. Expertly terminated with industry best Cardas Quad Eutectic solder, and fashionably decked out in a durable Mesh Techflex sleeving, IC-3SE2 will produce sublime musical performances in your system for years to come. Hand crafted one pair at a time, with pride in San Diego, CA, USA.
HIGH END INTERCONNECT PERFORMANCE FOR LESS
Truly a premium, cutting edge interconnect cable, with a custom shop, hand-crafted build and aesthetic, IC-3SE2 extends the proven performance of our highly regarded IC-3SE with superior parts quality. Outfitted with a choice of ETI gold plated copper LINK RCA's or ETI Brio rhodium plated copper RCA or XLR connectors and terminated with audiophile-grade solders, IC-3SE2 is a remarkably refined high-fidelity audio cable that competes favorably with many interconnects in the $700-$1,000/ meter range that have consumer funded dealer mark-ups added.
EICHMANN TECHNOLOGIES BRIO RCA
The ETI Research Brio RCA was created using the same design philosophies as the Kryo RCA featured in our upline IC-3 e2 interconnect, but with rhodium plating instead of silver. With conductive elements made from tellurium copper, and a rhodium plating that will not tarnish, Brio RCA has long lasting durability factors. Brio RCA also offers a robust housing made from brass, designed for superior vibration damping and high EMI/RF noise rejection. ETI's innovative star grounding design yields the very best audio signal transfer possible. The combination of high-quality materials and rhodium plating add up to a superior RCA designed to bring out the best possible fidelity in performance audio cable designs by allowing the signal to come through with a minimum amount of alteration.
THE CABLE AT THE CORE
Multiple stranded, silver-coated OFC copper conductors insulated in an ultra-low loss foamed Polyethylene dielectric, in a low capacitance design. 100% aluminum mylar shielding provides immunity to noise, with an upgraded, durable Techflex jacket.
| | IC-3 Classic | IC-3SE2 | IC-3 e | Statement e IC |
| --- | --- | --- | --- | --- |
| Oxygen Free High Purity Silver Plated Copper Conductors | | | | |
| OHNO Continuous Cast Hybrid 7N Pure Copper and Silver Plated Copper Conductors | | | | |
| Musical Sounding Foamed Polyethylene Insulation | | | | |
| 100% Aluminum Mylar Shielded for Immunity to Noise | | | | |
| Aluminum Mylar and UPOCC Copper Dual Shield for Complete Immunity to Noise | | | | |
| Woven or Mesh Techflex Jacket | | | | |
| High Performance Eichmann Technology RCA's and XLR's | | | | |
| High Performance WBT nextgen™ RCA's and Furutech 600 Series XLR's | | | | |
| Patented Process Deep Cryogenic Treatment by Cryogenics International | | | | |
| Audiophile Grade Cardas Quad Eutectic Silver Solder | | | | |
| All Conductive Surfaces Enhanced with Kontak ECO3x | | | | |
| Custom Shop Assembly by Phil Martinez | | | | |