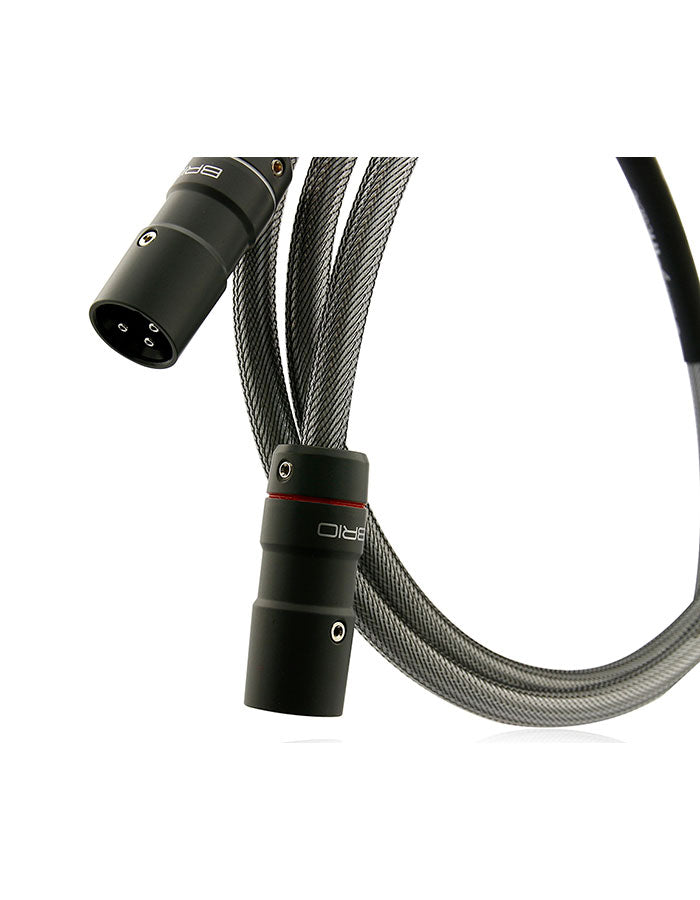 AAC IC-3 SE2 Interconnect Cable Pair Rhodium XLR
Our balanced IC-3SE2 interconnect features the award-winning IC-3 cable with high purity silver-plated OFC conductors. For the series 2 design, we've added a high-performance, rhodium plated tellurium copper Brio XLR from Eichmann Technologies International. These highly refined XLR's offer superior conductivity, and a long-lasting, tarnish free finish. With a robust housing that offers superior vibration damping along with high EMI/RF noise rejection, IC-3SE2 delivers a clear, transparent, tonally accurate presentation. Expertly terminated with industry best Cardas Quad Eutectic solder, and fashionably decked out in a durable Mesh Techflex sleeving, IC-3SE2 will produce sublime musical performances in your system for years to come. Hand crafted one pair at a time, with pride in San Diego, CA, USA.
HIGH END INTERCONNECT PERFORMANCE FOR LESS
Truly a premium, cutting edge interconnect cable, with a custom shop, hand-crafted build and aesthetic, IC-3SE2 extends the proven performance of our highly regarded IC-3SE with superior parts quality. Outfitted with a choice of ETI gold plated copper LINK RCA's or ETI Brio rhodium plated copper RCA or XLR connectors and terminated with audiophile-grade solders, IC-3SE2 is a remarkably refined high-fidelity audio cable that competes favorably with many interconnects in the $700-$1,000/ meter range that have consumer funded dealer mark-ups added.
EICHMANN TECHNOLOGIES BRIO XLR
The ETI Research Brio XLR was created using the same design philosophies as the Kryo XLR featured in our upline IC-3 e2 interconnect, but with rhodium plating instead of silver. With conductive elements made from tellurium copper, and a rhodium plating that will not tarnish, Brio XLR has long lasting durability factors. Brio XLR also offers a robust housing made from brass, designed for superior vibration damping and high EMI/RF noise rejection. Over the years, XLR connectors with some type of copper have been available but the male pins typically have too much mass which causes excessive capacitance, altering the sound. Many of these XLR's also have female connectors which are brass formed leading to sibilance and grain being introduced to the music! ETI Brio XLR uses tellurium copper for all conductive elements, ensuring maximum fidelity, and an attention to performance enhancing detail that results in the best connector choice always having the least effect on sound.
THE CABLE AT THE CORE
Multiple stranded, silver-coated OFC copper conductors insulated in an ultra-low loss foamed Polyethylene dielectric, in a low capacitance design. 100% aluminum mylar shielding provides immunity to noise, with an upgraded, durable Techflex jacket.
| | IC-3 Classic | IC-3SE2 | IC-3 e | Statement e IC |
| --- | --- | --- | --- | --- |
| Oxygen Free High Purity Silver Plated Copper Conductors | | | | |
| OHNO Continuous Cast Hybrid 7N Pure Copper and Silver Plated Copper Conductors | | | | |
| Musical Sounding Foamed Polyethylene Insulation | | | | |
| 100% Aluminum Mylar Shielded for Immunity to Noise | | | | |
| Aluminum Mylar and UPOCC Copper Dual Shield for Complete Immunity to Noise | | | | |
| Woven or Mesh Techflex Jacket | | | | |
| High Performance Eichmann Technology RCA's and XLR's | | | | |
| High Performance WBT nextgen™ RCA's and Furutech 600 Series XLR's | | | | |
| Patented Process Deep Cryogenic Treatment by Cryogenics International | | | | |
| Audiophile Grade Cardas Quad Eutectic Silver Solder | | | | |
| All Conductive Surfaces Enhanced with Kontak ECO3x | | | | |
| Custom Shop Assembly by Phil Martinez | | | | |