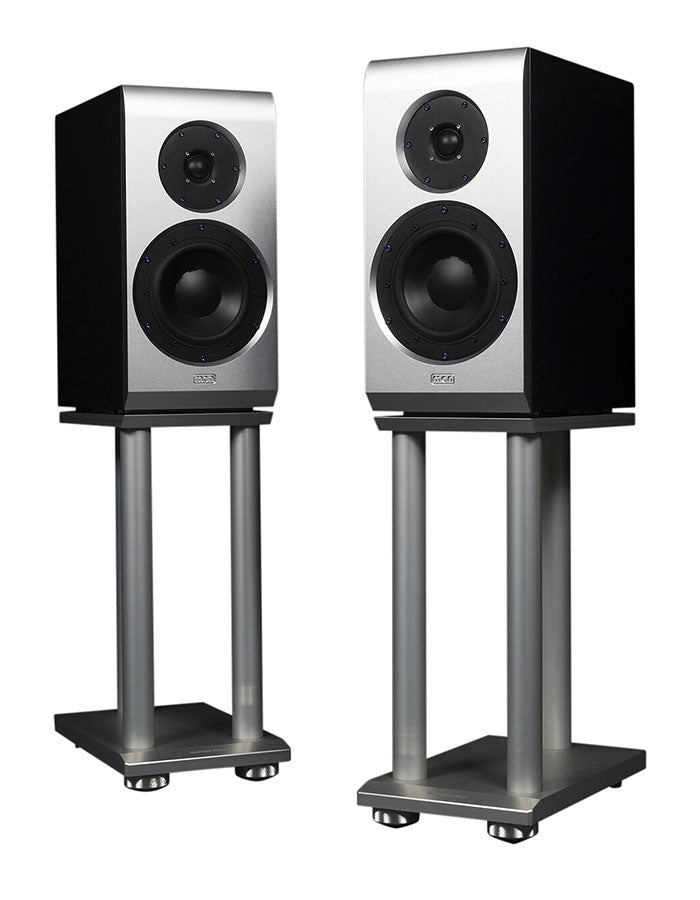 Speakers
SuperMon Isobaric
1 In stock
Majestic Performance Meets Unparalleled Engineering
The SuperMon Isobaric was created to bring about a revolution in the audio industry.
This latest innovation not only offers impeccable sound quality, but it also incorporates level of never-seen-before construction and engineering.
The outer construction and cabinet consist of metal, and aluminum to establish the most sophisticated sound quality possible. The large-diameter 7mm thick precision-machined aluminum front plate ensures linear frequency response and represents an extremely stable platform for the magnetic movement system inside.
The heavy-weight SuperMon Isobaric refuses to be a regular bookshelf class speaker. Within its modern and clean design, it contains the popular Bass-midrange driver AudioTechnology 6A77 and the Exotic T35 from SEAS.
Manufactured by Dr. K. Müller in Germany, the T35 is a classic coated fabric dome tweeter with high sensitivity and smooth, extended frequency response and is known for its excellent performance and consistency.
A generously underhung 35mm voice coil wound from copper-clad aluminum wire further enhances sensitivity. Flexible lead-out wires and venting holes in the aluminum coil former are included to combat noise and keep it to a minimum.
A highly efficient Alnico V ring magnet in a carefully designed system is the secret ingredient to high sensitivity and low distortion. The high-quality components work in tandem with marvelous design to create a match truly made in audiophile heaven.
The SuperMon Isobaric is the perfect speaker for those who refuse to settle for anything besides the best with regards to what the world of luxury audio has to offer.
Configuration: 2.5 Way Isobaric
Cabinet Material: Aluminum 606 Grade
Face Plate Colors: Silver, Black, Red, Royal Navy
Bespoke Color: Available on request with additional cost
Tweeter Unit: SEAS Exotic T35
Mid Woofer: Audio Technology 6A77
Woofer: Eton bass woofer
Frequency Range: 37hz ~ 25,000hz
Impedence Sensitivty: 4 Ohm/ 89dB
Speaker Dimension (inch) & Weight (lbs): 9.69/16.54/19.69 & 80lbs
Stand Dimension (inch) & Weight(lbs): 10.63/17.32/23.54 & 62lbs