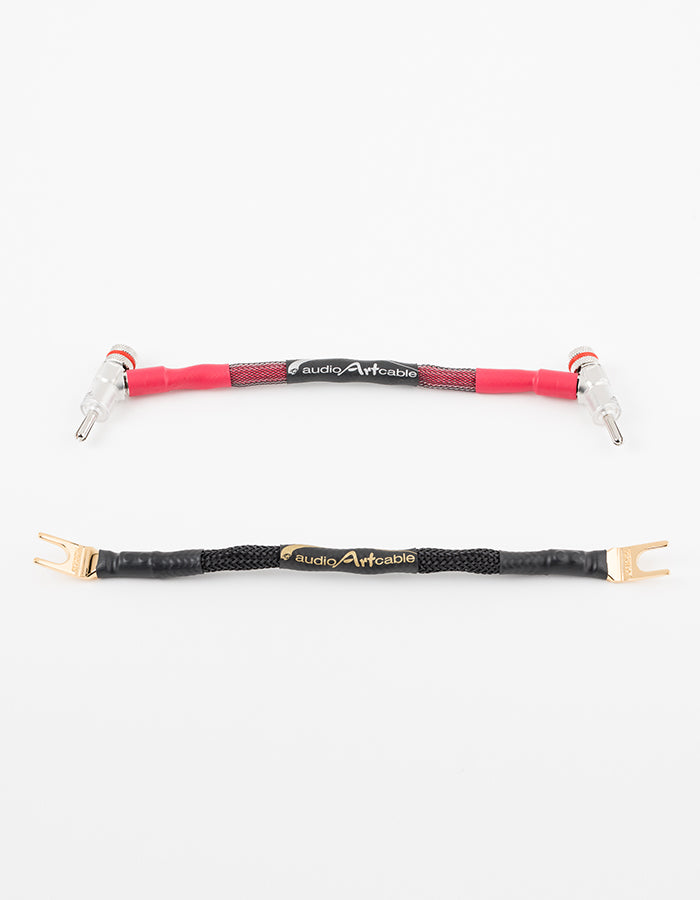 AAC Statement e SC Cryo Speaker Cable 4 Piece Jumper Set Specify Connectors
Statement eSC 4 Piece Jumper Set for Bi-Wire Terminals
As an upgrade from the rigid, brass-based jumper rods commonly included with your speakers, a speaker cable jumper set that mirrors the geometry and design of your speaker cables can provide a significant upgrade path for your system's performance. Jumpers are also a more value-oriented solution vs. a double bi-wire speaker cable pair. A jumper set is also a preferred performance option, in our option, rather than reducing the cable gauge with an internally bi-wired SC pair, when used with full-range loudspeaker designs. Internally bi-wired speaker cables remain a viable choice with restricted low-frequency, small monitor speaker designs. Set includes 4x jumpers, one for each L/R +/- speaker terminal.
THE CABLE AT THE CORE
Single Crystal, OHNO Continuous Cast wire at 99.99998% pure, 8 conductors, StarQuad architecture, and a center PVC ventral cord, featuring multiple strands of differing diameters. Foamed polyethylene dielectric. Four 17 AWG conductors per channel make an aggregate 11-gauge single wire speaker cable, or a 14 AWG for bi-wire. Three layers of PVC CL3, a vibrational absorbing fabric wrap, and an exterior layer of PVC round out the design's exterior jacket.
| | SC-5 Classic | SC-5 SE | SC-5 e2 | SC-5 ePlus | Statement e SC |
| --- | --- | --- | --- | --- | --- |
| Oxygen Free High Purity Silver Plated Copper Conductors | | | | | |
| OHNO Continuous Cast Hybrid 7N Pure Copper and Silver Plated Copper Conductors | | | | | |
| 14 Gauge Conductors | | | | | |
| 11 Gauge Conductors | | | | | |
| Musical Sounding Foamed Polyethylene Insulation | | | | | |
| Woven or Mesh Techflex Jacket | | | | | |
| High Performance Eichmann Technology Kryo Bananas and Kryo Spades | | | | | |
| High Performance Furutech Locking Bananas and Spades | | | | | |
| Patented Process Deep Cryogenic Treatment by Cryogenics International | | | | | |
| Solderless Nano Liquid Enhanced Wire / Terminal Interface | | | | | |
| Audiophile Grade Cardas Quad Eutectic Silver Solder | | | | | |
| All Conductive Surfaces Enhanced with Kontak ECO3x | | | | | |
| Custom Shop Assembly by Phil Martinez | | | | | |