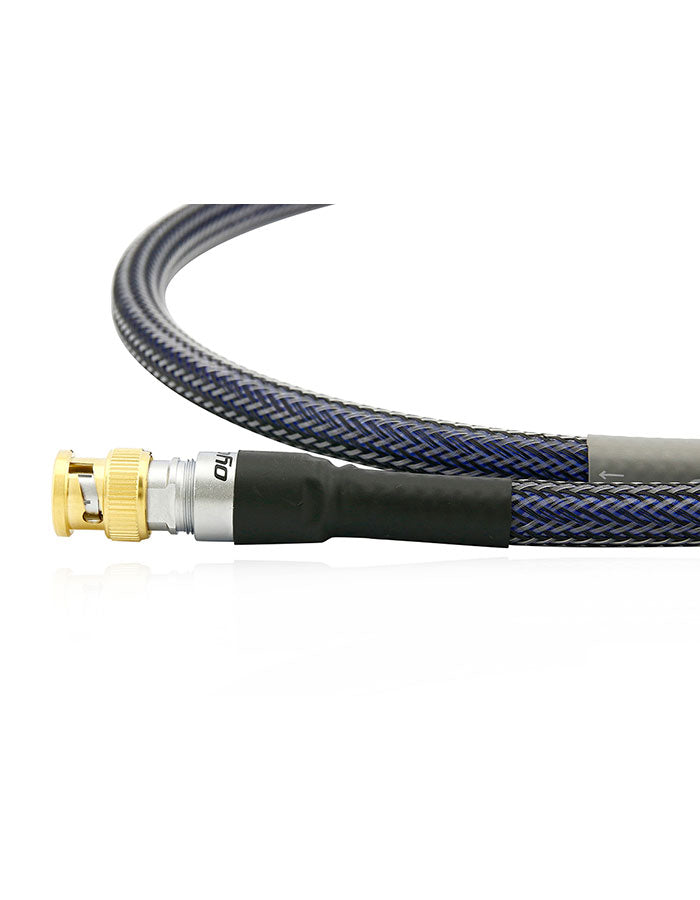 AAC Statement Digital with BNC to RCA
Audio Art's new Statement Digital employs a Single Crystal (OCC) silver conductor, allowing for the highest level of signal purity in a coaxial design – especially in the midrange and treble frequencies. Harmonic richness is also increased due to elimination of crystal boundaries in the conductor, as well as molecular impurities that disrupt the integrity of complex digital waveform harmonics. The background becomes "black" and completely silent, with more harmonic richness in the important midrange frequency band than you have ever experienced from a digital cable. Imaging is three-dimensional and holographic, with more tonal "body" and depth to the sound field. Statement Digital ensures a fully coherent harmonic structure, and the elimination of "grain" and "fuzz" often associated with digital audio listening experiences. Handcrafted one cable at a time, with pride in San Diego, California, USA.
A quality audio cable's handoff to a quality connector part is nothing less than a critical part of any performance audio cable's design. That said, we use the world's finest performance-audio RCA's and BNC's for 75 ohm digital data transmission, WBT's 0110Ag nextgen™ RCA, and Oyaide's SLSB BNC, both featuring Silver Pin conductors. Statement Digital includes a musical sounding foamed PE insulation, plus a dual shield made of copper Mylar and braided silver-plated OFC for complete noise immunity. The result? Audio Art Cable's Statement Digital is one of the most accurate, resolving, and musical sounding digital cables on the market today, designed for audiophiles seeking professional levels of musical performance and detail. It's a great choice for any high-end audio system where true to life musicality, as well as enjoying every delicate nuance in your favorite recordings are top priorities. All of this, at an Audio Art Cable price that any hi-fi enthusiast can afford.
Oyaide SLSB BNC Connector
Oyaide's BNC plugs are engineered to provide exceptional transmission of musical detail. With a Silver contact pin, and a Silver/Rhodium Plated Jacket, these chrome-plated brass beauties are precision machined not only for good looks, but for superior conductivity. A PTFE dielectric minimizes signal loss and a 4N pure silver center pin provides audiophile quality performance for enthusiasts seeking professional levels of musical detail.
WBT-0110Ag nextgen™ RCA
WBT's 0110Ag nextgen™ connector offers the ultimate in 75 Ohm data transmission. Contacts consist of passivated pure fine silver, and the body is meticulously constructed with a cobalt blue plate for a nice aesthetic appeal. With a transmission bandwidth is of 1 GHz., the WBT- 0110's 75-ohm characteristic impedance means distortion free transmission of digital audio signals.
THE CABLE AT THE CORE
Statement Digital features a proprietary Single Crystal (OCC) solid silver conductor, offering the highest level of signal purity in a coaxial design. A dual aluminum mylar and copper braid shield ensures complete immunity to noise factors, along with the conductor encased in a musical sounding PTFE dielectric. AAC Statement Digital is one of the most accurate and tonally rich sounding digital cables on the market and is a fantastic choice for any high performance digital audio playback systems.
| | D-1SE2 | Statement Digital |
| --- | --- | --- |
| Solid, Silver-Coated OFC Center Conductor | | |
| Closed Cell Foam FEP dielectric | | |
| Aluminum Mylar and Heavy Braid Dual Layer Shield | | |
| Single Crystal (OCC) Pure Silver Center Conductor | | |
| Dual Copper Mylar / Braided Silver-Plated OFC Shield | | |
| Woven Techflex Jacket | | |
| High Performance ETI LINK Gold and Silver RCA's and Furutech BNC's | | |
| Audiophile Quality WBT nextgen™ RCA's and Oyaide BNC's | | |
| Audiophile Grade Cardas Quad Eutectic Silver Solder | | |
| Custom Shop Assembly by Phil Martinez | | |