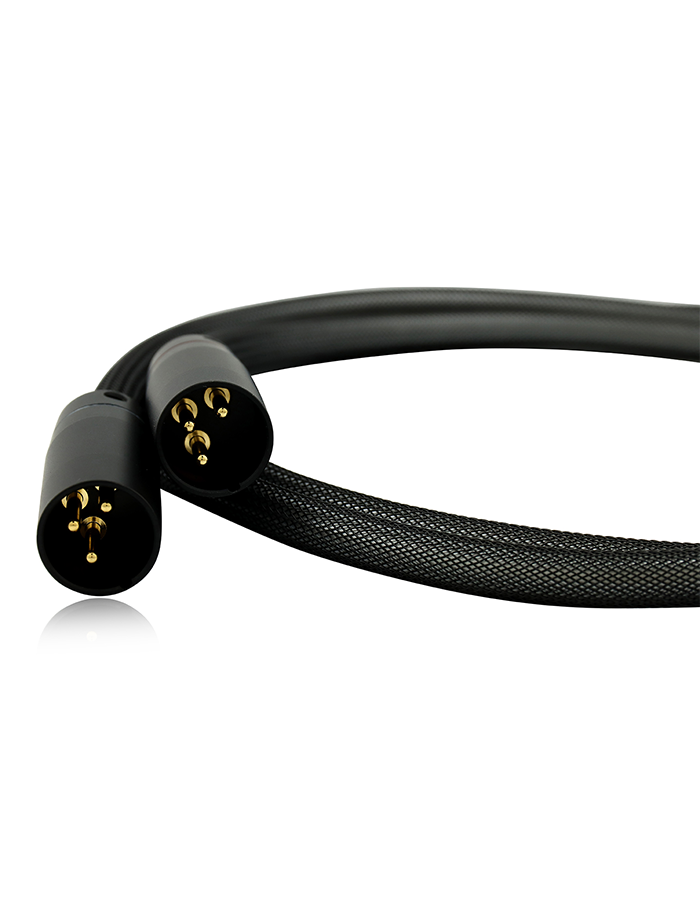 AAC IC-3-SE2 Interconnect Cable Pair Gold XLR
The new IC-3SE2 interconnect features our award-winning IC-3 cable with high purity silver-plated OFC conductors. For the series 2 design, we've added a high-performance, gold plated ETI COPPER LINK XLR from Eichmann Technologies International. These expertly engineered parts provide a sure fit to female sockets, and yield a clear, transparent, yet warmer presentation. Expertly terminated with industry best Cardas Quad Eutectic solder, and fashionably decked out in a durable Mesh Techflex sleeving, IC-3SE2 will produce sublime musical performances in your system for years to come. Hand crafted one pair at a time, with pride in San Diego, CA, USA.
HIGH END INTERCONNECT PERFORMANCE FOR LESS
Truly a premium, cutting edge interconnect cable, with a custom shop, hand-crafted build and aesthetic, IC-3SE2 extends the proven performance of our highly regarded IC-3SE with superior parts quality. Outfitted with a choice of ETI gold plated COPPER LINK XLR or ETI Brio rhodium plated copper RCA or XLR connectors and terminated with audiophile-grade solders, IC-3SE2 is a remarkably refined high-fidelity audio cable that competes favorably with many interconnects in the $700-$1,000/ meter range that have consumer funded dealer mark-ups added.
EICHMANN TECHNOLOGIES COPPER LINK XLR
The new Copper Link XLR Connector was based upon the venerable Bullet Plug from ETI-Research, but this time with added benefits. The signal pin is now made from pure copper for even better conductivity and performance, while maintaining the original's hollow pin design. The benefits of a hollow pin design are more advantageous to the sound quality than solid pin designs typically found on the market today, and tellurium copper at the pin's core allows for strength and durability to last for years and years. An aluminum housing replaces the original bullet's polymer, making the new design far more impervious to today's EMI radiation levels floating around every residential audio system. As a result, ETI COPPER LINK XLR has very good EMI/RF noise rejection to keep your signal as clean as it possibly can be.
THE CABLE AT THE CORE
Multiple stranded, silver-coated OFC copper conductors insulated in an ultra-low loss foamed Polyethylene dielectric, in a low capacitance design. 100% aluminum mylar shielding provides immunity to noise, with an upgraded, durable Techflex jacket.
| | IC-3 Classic | IC-3SE2 | IC-3 e | Statement e IC |
| --- | --- | --- | --- | --- |
| Oxygen Free High Purity Silver Plated Copper Conductors | | | | |
| OHNO Continuous Cast Hybrid 7N Pure Copper and Silver Plated Copper Conductors | | | | |
| Musical Sounding Foamed Polyethylene Insulation | | | | |
| 100% Aluminum Mylar Shielded for Immunity to Noise | | | | |
| Aluminum Mylar and UPOCC Copper Dual Shield for Complete Immunity to Noise | | | | |
| Woven or Mesh Techflex Jacket | | | | |
| High Performance Eichmann Technology RCA's and XLR's | | | | |
| High Performance WBT nextgen™ RCA's and Furutech 600 Series XLR's | | | | |
| Patented Process Deep Cryogenic Treatment by Cryogenics International | | | | |
| Audiophile Grade Cardas Quad Eutectic Silver Solder | | | | |
| All Conductive Surfaces Enhanced with Kontak ECO3x | | | | |
| Custom Shop Assembly by Phil Martinez | | | | |