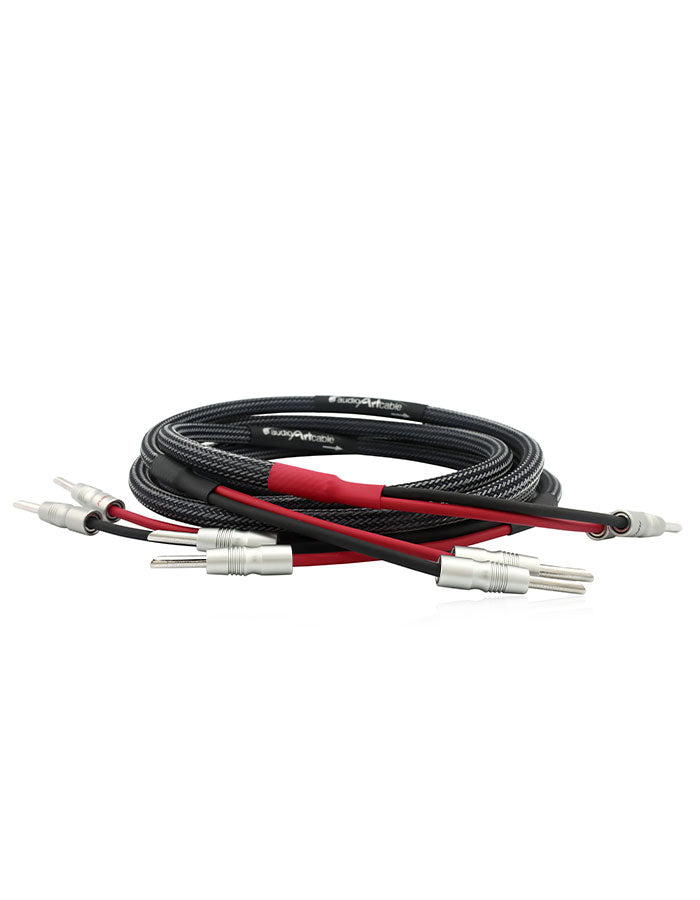 AAC e2.2 Cryo Speaker Cable Pair Rhodium Banana
This Gen II Enhanced "e Series" speaker cable, e2.2 Cryo features a patented deep cryogenic treatment, radically stabilizing electrical conductivity of this high-purity, silver plated 14-gauge OFC cable. Solderless terminations are infused with Furutech nano-fluid, and conductive surfaces treated with Kontak, significantly improving electron flow and signal integrity from amplifier to speaker, maximizing performance. Rhodium Plated Furutech FP-200B(R) "Z" style bananas provide an exceptionally sure fit and are made with ultimate purity Alpha copper-bronze phosphor conductors. Carbon Techflex sleeving provides a durable and attractive cover.
AAC's e2.2 speaker cable is hand crafted one pair at a time in San Diego, CA, USA.
DEEP CRYO TREATED FOR THE ULTIMATE LEVEL OF PERFORMANCE
Our newly retooled e2.2 Cryo speaker cable, features a patented process deep cryogenic treatment stabilizing the wire's molecular structure for superior signal conductivity. Cryogenic treatment of audio cables carries over to the listener's experience as pinpoint sound-staging, superior rhythm and pace, improved clarity, life-like dynamics, and a well-tuned, robust low-end performance. e2.2 Cryo features highly conductive Furutech FP-200B(R) "Z" style bananas with high purity Alpha copper- phosphor bronze conductors. Expertly terminated with a solderless, Nano Liquid infused cable interface, and all conductive surfaces enhanced post-assembly with Kontak ECO3x, and fashionably decked out in a durable Carbon Techflex sleeving. e2.2 cable pairs are hand crafted one at a time, with pride in San Diego, CA, USA.
FURUTECH FP-200B(R) BANANAS
Furutech's FP-200B(R) Bananas are made with an α (Alpha) Pure Copper-Phosphor Bronze alloy and plated with pure rhodium, resulting in a more neutral sound. Made with the most conductive materials available, FP-200B is then cryogenically treated and demagnetized even though no magnetic parts are present. The FP-200B features an anti-oxidized Aluminum Alloy Housing, and provides a secure, reusable fits to your amplifier's binding posts. A perfect mate to our e2.2 Series cables, this combination of high-quality materials and specialized cryogenic treatment all add up to a state-of-the-art speaker cable connector, delivering the ultimate in hi-fi audio performance.
THE CABLE AT THE CORE
Multiple stranded, silver-coated 14 gauge OFC copper conductors insulated with an ultra-low loss foamed Polyethylene dielectric, in a low capacitance design. Vibrational absorbing fill, and a durable midnight blue PVC jacket round out the design.
| | SC-5 Classic | SC-5 SE | SC-5 e2 | SC-5 ePlus | Statement e SC |
| --- | --- | --- | --- | --- | --- |
| Oxygen Free High Purity Silver Plated Copper Conductors | | | | | |
| OHNO Continuous Cast Hybrid 7N Pure Copper and Silver Plated Copper Conductors | | | | | |
| 14 Gauge Conductors | | | | | |
| 11 Gauge Conductors | | | | | |
| Musical Sounding Foamed Polyethylene Insulation | | | | | |
| Woven or Mesh Techflex Jacket | | | | | |
| High Performance Eichmann Technology Kryo Bananas and Kryo Spades | | | | | |
| High Performance Furutech Locking Bananas and Spades | | | | | |
| Patented Process Deep Cryogenic Treatment by Cryogenics International | | | | | |
| Solderless Nano Liquid Enhanced Wire / Terminal Interface | | | | | |
| Audiophile Grade Cardas Quad Eutectic Silver Solder | | | | | |
| All Conductive Surfaces Enhanced with Kontak ECO3x | | | | | |
| Custom Shop Assembly by Phil Martinez | | | | | |