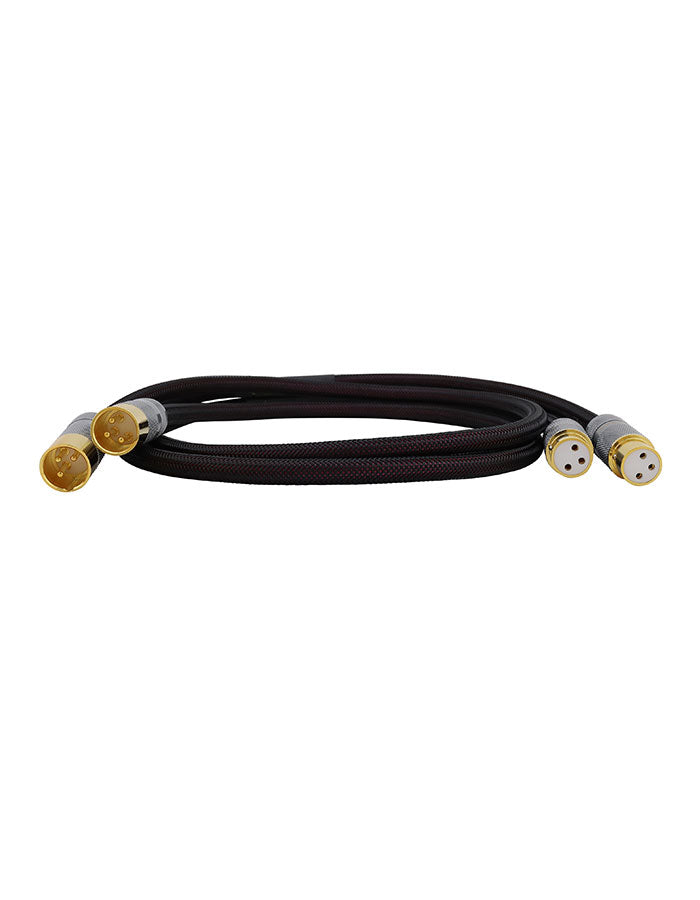 AAC Copper Cryo Interconnect Cable Pair Gold XLR
Building on the success of our e Cryo Series cables, our new Copper Cryo XLR utilizes the same patented process deep cryogenic treatment to stabilize the wire's molecular structure, enhancing conductive properties. In your listening sessions, this translates to pinpoint sound-staging, enhanced rhythm and pace, engaging dynamics, and articulate bass performance. Copper Cryo also caters to hobbyists who prefer the natural and organic warmth that a pure copper cable delivers, while maintaining a highly resolved character. Copper Cryo IC features Viborg's precisely crafted XM/XF-202(G) gold plated copper XLR set, along with AAC's new ultra-high purity, dual shielded OHNO Continuous Cast Copper (OCC) cable at its core. Copper Cryo XLR is expertly terminated with high-performance Mundorf Supreme Silver/Gold Solder, and all conductive surfaces are treated post assembly with Kontak ECO3x Contact Cleaner. Fashionably finished with a durable Black Magic Techflex sleeving, AAC's Copper Cryo XLR is hand crafted one pair at a time, with pride in San Diego, CA, USA.
Why cryo treat audio cables?
DEEP CRYO TREATED FOR THE ULTIMATE LEVEL OF PERFORMANCE
Audio Art's cytogenetically treated interconnects move into a different realm with our Copper Cryo XLR. A patented process deep cryogenic treatment is designed specifically for audio cables and connector parts enhancing the cable's performance. Music flows effortlessly through your system, into your ears with an absolute minimal degree of alteration. The result is a highly musical interconnect with richly refined tonal characteristics, resolved frequency extremes, improved micro and macro dynamic shadings, holographic spatial cues, and more! Copper Cryo XLR will transport your music to new levels of performance that will have your toes tapping, while doing so at factory direct prices free from consumer funded dealer mark-ups.
VIBORG XM/XF-202(G) XLR PLUG SET's
These high-quality XLR connectors are constructed exclusively from material selected and processed for superior conductivity. With all conductive contacts and pins made of pure copper, MX/XF-202(G) features superior signal conductivity, and benefits from a triple Copper-Silver-Gold layered-plating. This plating contributes significantly to the finesse of the signal while ensuring excellent, thermochemically inert resistance to natural wear factors such as corrosion and oxidation. MX/XF-202(G) XLR's have superior abilities to drive an audio signal, making it a natural choice for high precision cables designed for audiophile quality music reproduction.
THE CABLE AT THE CORE
Multiple stranded, silver-coated OFC copper conductors insulated in an ultra-low loss foamed Polyethylene dielectric, in a low capacitance design. 100% aluminum mylar shielding provides immunity to noise, with an upgraded, durable Techflex jacket.
| | IC-3 Classic | IC-3SE2 | IC-3 e | Statement e IC |
| --- | --- | --- | --- | --- |
| Oxygen Free High Purity Silver Plated Copper Conductors | | | | |
| OHNO Continuous Cast Hybrid 7N Pure Copper and Silver Plated Copper Conductors | | | | |
| Musical Sounding Foamed Polyethylene Insulation | | | | |
| 100% Aluminum Mylar Shielded for Immunity to Noise | | | | |
| Aluminum Mylar and UPOCC Copper Dual Shield for Complete Immunity to Noise | | | | |
| Woven or Mesh Techflex Jacket | | | | |
| High Performance Eichmann Technology RCA's and XLR's | | | | |
| High Performance WBT nextgen™ RCA's and Furutech 600 Series XLR's | | | | |
| Patented Process Deep Cryogenic Treatment by Cryogenics International | | | | |
| Audiophile Grade Cardas Quad Eutectic Silver Solder | | | | |
| All Conductive Surfaces Enhanced with Kontak ECO3x | | | | |
| Custom Shop Assembly by Phil Martinez | | | | |