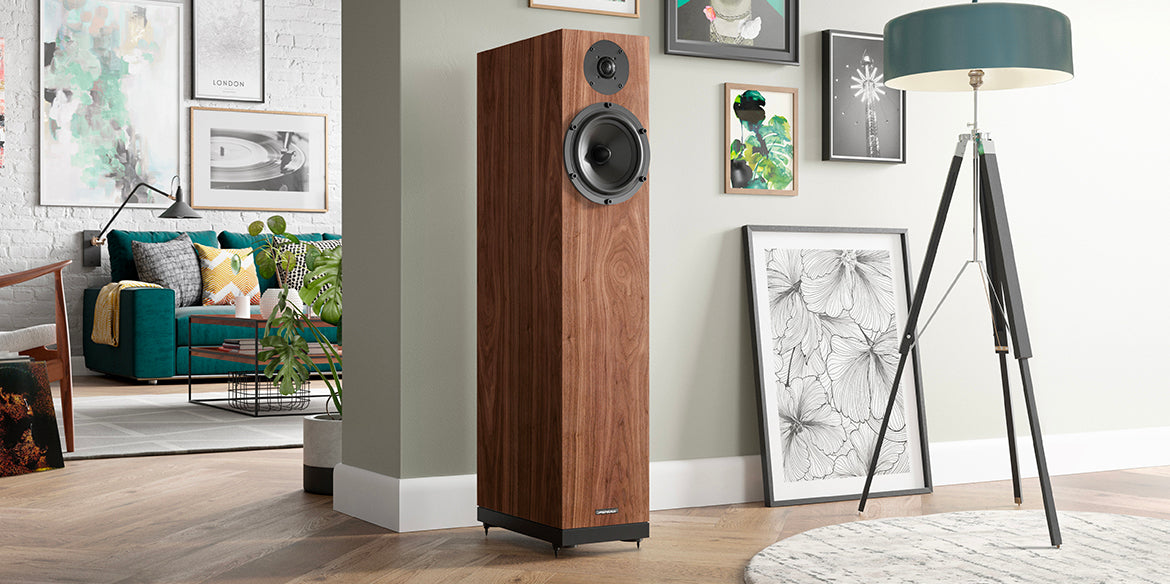 in News
Spendor A Line Loudspeakers
It's All Good
Spendor A Line loudspeakers have long been on my personal wish list. I love a good two-way monitor, endorsing a simpler is better philosophy when it comes to speaker designs. Logic might dictate that the fewer segments a musical signal is divided into, the easier it becomes to reassemble into a convincing and cohesive whole. Diminutive floor-standing speakers under 36" tall, with compelling bass extension and a propensity to deliver scale, slam, and weight typically associated with much larger designs are a plus for our smaller, but infinitely charming, 1932 Spanish Style So. Cal. home. Furniture grade, sumptuous real wood finishes? Check off another box.
All this packed into a timelessly elegant, understated, and classic aesthetic, that blends superbly into any decor. The oft mentioned audiophile phrase "Spouse Acceptance Factor" applies perfectly to the Spendor A Line. They are inconspicuously and unassumingly gorgeous.
So, having read the enthusiastically positive reviews of this iconic, 5 decades old audiophile loudspeaker brand, I have been interested in hearing a pair of their A-Series towers in my main system for several years.
The Universe Was Listening
Surfing the internet in December last year, I was pleasantly surprised to see Spendor had agreed to terms with a new US distributor, The Sound Organisation. Since TSO also represents the fine Rega brand of components we offer in our store, it seemed a higher power was at work, suggesting I take another look at this venerable speaker design. The powers that be at Audio Art Cable, myself, and my lovely wife Jeannie, decided to order in a few demo pairs and see what the fuss was all about. In early January, we received our shipment, and connected sets of A1's, A2's, and A4's to 3 different AAC systems, and I am awfully glad we did!
Let Me Count the Ways
There is much to like about Spendor's A Line, aside from having all of my personal must have boxes checked. The overall balance of their presentation is exceptional. They are quite unfussy with amplifier matching, room positioning, and have an uncanny ability to play a myriad of musical genres in a satisfying, unbiased manner. There is an ever-elusive intrigue present with these Spendors that audio enthusiasts do not always find in a new component: there is a desire to let the music play on, not to skip to another record to gain perspective on their abilities, as favorite recordings sound fresh and new. Immersion into the experience and the feelings the artist intended to convey becomes inevitable.
The Spendor website phrases it nicely:
"Energetic and uplifting, A-Line loudspeakers deliver sound with projection, character and sheer entertainment far beyond their modest dimensions. With their clean, open sound, they are outgoing, friendly, and expressive, bringing a natural sense of life and articulation to your music. They're refined and composed, with real subtlety, but also with a snap and drive that makes them captivating to listen to at all times. The goal of high-end loudspeakers is to deliver a clear, transparent sound. Spendor loudspeakers reveal details and subtleties that open new windows on the performance and transform the way you connect with music – they bring music vibrantly to life."
Special is the Word
The portrayal of music played through a Spendor A Line speaker is uniquely captivating in many ways. Upper frequencies such as cymbals have texture and body as well as tone. The metallic attack, decay, and shimmer involved with wood striking metal sounds tangible, not just accurately reproduced. The floor-standing A2's, A4's, and A7's have a sense of weight, scale, and soundstage size that belies their diminutive physiques. This musical scope can play extremely well in smaller to medium to larger size rooms, depending on the model.
Music leaps enthusiastically and joyously from the Spendors, with previously undetected nuances arriving by surprise to the forefront, demanding that you listen closely. Tonal qualities of various instruments along with male or female voices are convincingly portrayed in a natural and clear sounding fashion. These incredibly special Spendors always insist that you listen on, and you cannot help but follow the Siren's seductive call….
Call or email us today for more information, or to purchase a pair of Spendor A Line speakers for your system. You will be glad you did!