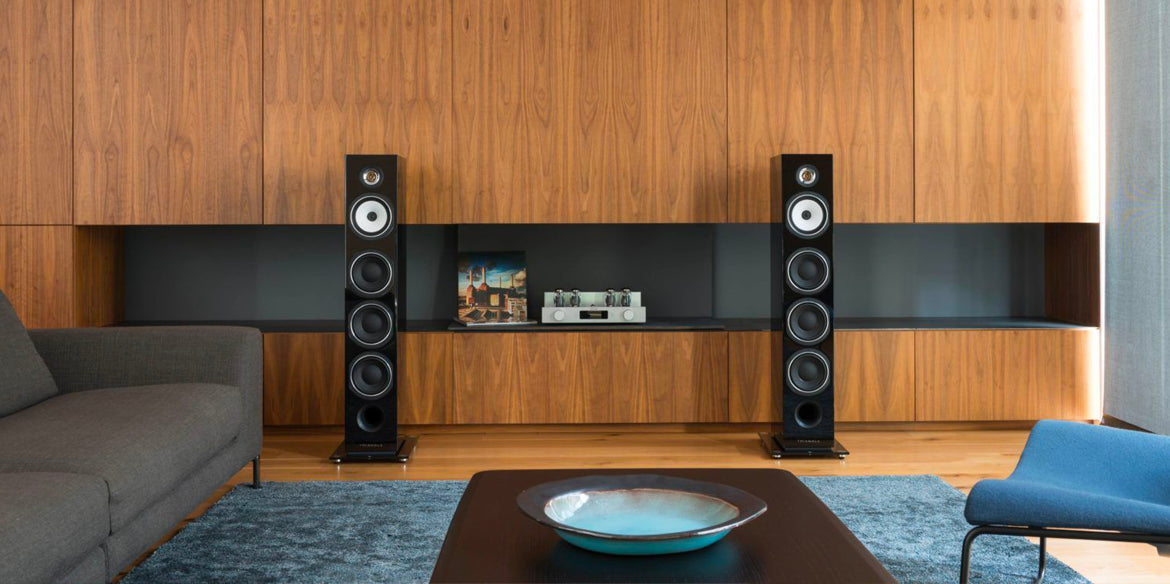 in News
A Few of My Favorite Things, Pt. II
Speakers are the bottom line so to speak, of the sound of a hi-fidelity audio system. By that I mean they are the voice of the system and an integral path to achieving an overall sonic character that pleases you. A carefully selected speaker model will fit nicely into the aesthetics of your room's décor and will synergize sonically with your upstream components. It will also accurately pressurize your listening room, properly positioning instruments within the soundstage, as well as producing bass that is controlled, articulate and tuneful. You will also achieve a wonderfully pleasing balance of warmth, body, texture, tonality, air, nuance, and detail. A randomly chosen speaker conversely, can under or over pressurize the listening space, they may not play well somehow with the rest of your components, leaving you yearning for more or running for cover, and begging for "less"!
There are certain speaker designers and manufacturers, who in my opinion, have a philosophy that resonates with the intention of an audiophile's pursuits. A philosophy that ultimately stimulates our senses by intersecting technology and design. These companies produce exceptional products that are emotionally moving, fun and engaging to listen to. Speakers that have a "pay attention to me!" sense of musical energy. These designers produce products that are expressly unique, in a field chock full of me-too products.
I would like to enthusiastically introduce you to another of our new audio component partnerships --
Triangle Hi-Fi Speakers
I first became acquainted with Triangle Speakers by reading Sam Tellig's enthusiastic reviews of their models in Stereophile magazine several years ago. I was always a big fan of Sam and his spirited writings about the hobby we all love. I never tried a pair of Triangles back in the day but remained captivated by the brand and its design philosophies based on the fun he had listening to their speakers. Sam Tellig thought these Triangles were something extra special, and his opinion had value to me.
Fast forward a few years later, and I am thrilled to now be associated with this brand as a dealer.
Allow me to summarize a little about this company from the information on the Triangle website. The 40-year old French company's design philosophy, both acoustically and cosmetically, is the result of the company's history, and is inherited directly from the founder, chief designer, and music lover, Mr. Renaud De Vergnettes. The vision of Triangle and of Mr. De Vergnettes is "one of French Romanticism, with an emphasis on emotion and a sensitivity against reason and rationalism".
I have always been a bit of a rebel myself, so I can relate to having a sensitivity against reason and rationalism! This sounds like a passionate soul on the loose. It sounds like a willingness to think outside of the box, to allow your creativity to lead and guide your decisions, and to ultimately bring something special to market.
Audio Art Cable will be offering the full Borea and Esprit lines, along with a few other models and accessories from Triangle's line-up. The new Borea and the revamped Esprit EZ Series models are musically expressive, fun, and engaging listens, as well as incredible values. Many of these models receive consistently favorable reviews and awards from online hi-fi writers and You-Tube video journalists.
Again from Triangle themselves, on their website –
"Triangle's desire is to make you feel the music intensively, as if you were at the heart of the concert. This calls for a dynamic and living sound which conveys all the finesse and beauty of any musical composition."
Having spent several months now auditioning a few of the acclaimed Borea and Esprit Series models, I couldn't have said it better myself!
Please consult us with any questions you may have about this manufacturer's fine line-up of speaker products.
Coming Soon...
Sonnet Audio
Lehmann Audio Phono Stages
Dayens Audio Amplifiers
Audeze Headphones