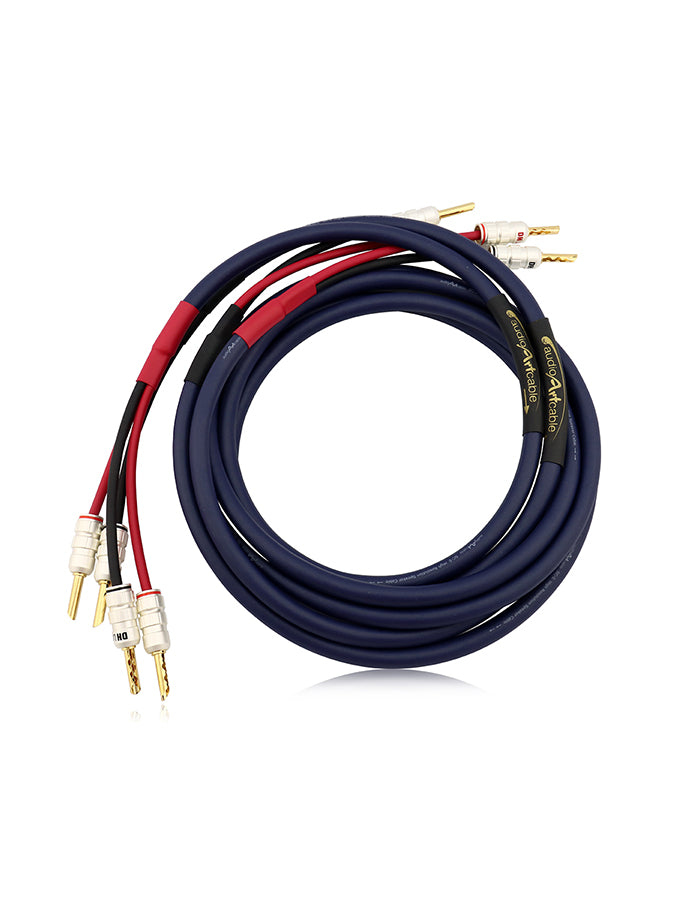 AAC Classic Plus SC Speaker Cable Pair Gold Banana
Our original AAC SC-5 Classic gets a robust boost in parts quality, performance, and user convenience. The new Audio Art Classic Plus SC features our award willing silver-plated high purity OFC 14-gauge cable, with upgraded DH Labs Gold Z Bananas, and Furutech Nano-Liquid infused terminations. Classic Plus SC offers incredible value and stunning performance at a very affordable price. Single wire construction. Hand crafted one pair at a time, with pride in San Diego, California, USA.
HI-FIDELITY SONICS AT AN ENTRY LEVEL PRICE
Classic Plus SC delivers a remarkable level of resolution, clarity, dynamics, and overall performance at a factory direct to consumer price. This high value speaker cable provides discriminating audio hobbyists an alternative to boutique store cables sold with dealer mark-ups factored in. Classic Plus SC immerses the listener in a transparent, detailed, dynamic, smooth, and musically involving sound. Compare this speaker cable to competitive models costing many times more.
DH LABS GOLD Z BANANA
The DH Labs Gold Z Banana speaker cable connector is one of the best sounding banana connectors on the market. Also known as a BFA, "Z", or Sawtooth style Banana, this design is unique in the way it will make a near perfect connection between connector and terminal.
The Beryllium Copper conductor used in the Gold Z Banana is housed in an Aluminum shell, offering fantastic rejection of EMI and RF radiation. Its strength and stability allow for multiple plug > unplug cycles without any deterioration in electrical contact integrity. Two termination screws allow for the solderless Nano Liquid infused terminations also found in our "e" and Statement Series cables, while securing the electrical and mechanical connection strongly.
THE CABLE AT THE CORE
Multiple stranded, silver-coated 14 gauge OFC copper conductors insulated with an ultra-low loss foamed Polyethylene dielectric, in a low capacitance design. Vibrational absorbing fill, and a durable midnight blue PVC jacket round out the design.
| | SC-5 Classic | SC-5 SE | SC-5 e2 | SC-5 ePlus | Statement e SC |
| --- | --- | --- | --- | --- | --- |
| Oxygen Free High Purity Silver Plated Copper Conductors | | | | | |
| OHNO Continuous Cast Hybrid 7N Pure Copper and Silver Plated Copper Conductors | | | | | |
| 14 Gauge Conductors | | | | | |
| 11 Gauge Conductors | | | | | |
| Musical Sounding Foamed Polyethylene Insulation | | | | | |
| Woven or Mesh Techflex Jacket | | | | | |
| High Performance Eichmann Technology Kryo Bananas and Kryo Spades | | | | | |
| High Performance Furutech Locking Bananas and Spades | | | | | |
| Patented Process Deep Cryogenic Treatment by Cryogenics International | | | | | |
| Solderless Nano Liquid Enhanced Wire / Terminal Interface | | | | | |
| Audiophile Grade Cardas Quad Eutectic Silver Solder | | | | | |
| All Conductive Surfaces Enhanced with Kontak ECO3x | | | | | |
| Custom Shop Assembly by Phil Martinez | | | | | |