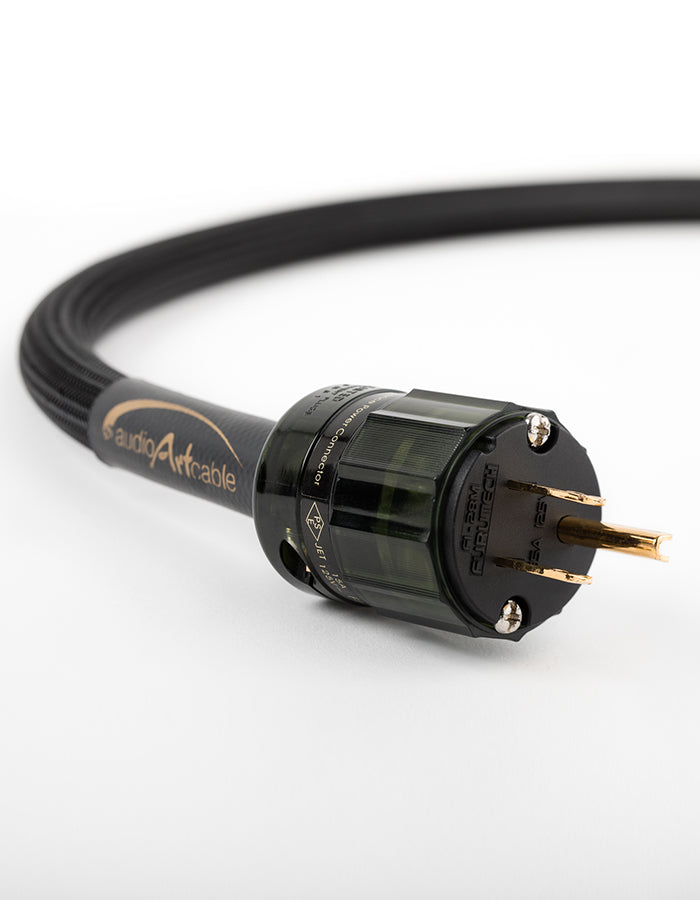 power 1SE
Our Signature Edition power cable model features twin 11-gauge UHP-OFC conductors, and an 11-gauge ground. Aluminum Mylar Shielding for superior noise rejection, and a durable PVC outer. High performance Furutech FI-28 plug sets offer a high-tech nylon/fiberglass body and polycarbonate shell incorporate carbon particles that absorb vibration and resonance for greater image stability. Fashionably decked out in a durable Techflex sleeving, power1 SE is hand crafted one cable at a time, with pride in San Diego, CA, USA
MORE THAN YOUÕD EXPECT IN A MID-LINE POWER CABLE
power 1SE exudes audiophile grade quality, along with an unparalleled hand built fit and finish. One of the industryÕs finest plug sets, FurutechÕs pure copper FI-28 Series offers exceptional performance and uncompromising quality. Expect to find an exceptional plug part like FI-28 on competitive power cables costing 2-3 times the price, if at all. A dapper Techflex jacket offers additional durability and protection, for a behind the rack, on the floor lifestyle.
FURUTECH FI-28(G) HIGH-PERFORMANCE PLUG SET
FurutechÕs Pure Transmission philosophy, and meticulous build quality create one of the finest AC plug sets on the market today. Creative engineering solutions to EMI / RFI rejection, and grounding significantly reduce distortion for a clean, stable transfer of current. Pure copper contacts and pins, precision plated with 24k gold, optimize electrical conductivity. The nylon/fiberglass body incorporates carbon particles that absorb vibration and resonance, while a metal cable clamp improves grip and further reduces mechanically and electrically induced distortions. FurutechÕs patented _ (Alpha) processing demagnetizes, and cryogenically treats the part, enhances current transmission, provides greater clarity and resolution, blacker backgrounds, and an improved sense of size, scale, and focus within the soundstage. The gold plated FI-28(G) adds a touch of warmth to the sound.