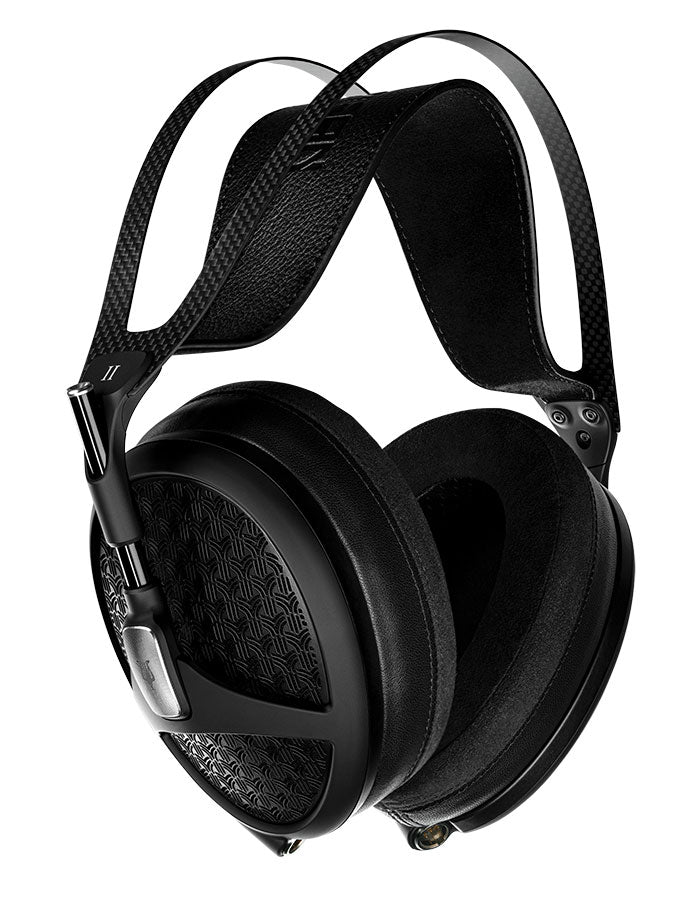 Meze Audio Empyrean II Headphone
1 In stock
Building upon the legacy of its predecessor, Empyrean II emerges as a symphony of artistry, innovation and craftsmanship. A natural step forward from our first ever planar magnetic headphone, Empyrean II retains all the beloved elements of its iconic predecessor, with an added touch of sculptural elegance.
Crafted with precision via CNC milling, the frame features a sleek matte black finish with silver accents, and a redesigned grill that draws inspiration from the bold and timeless art deco patterns.
FEATURES:
Building upon the legacy of its predecessor, EMPYREAN II is here to deliver more of what you love – more clarity, more depth, more fun - all of this inside a lightweight, comfortable, art-inspired frame
Driver type: Rinaro Isodynamic Hybrid Array Driver®
Operating Principle: Open
Ear Coupling: Circumaural
Aluminium CNC frame
Carbon fiber headband
Patent-pending pressure distribution wings
Isomagnetic earpads coupling technology
Anthropometric earcup shape

ARCHITECTURE OF THE ISODYNAMIC HYBRID ARRAY DRIVER©
The Isodynamic Hybrid Array Driver combines individual switchback and spiral shaped voice coils in one driver, allowing sound to be targeted with more accuracy around the natural form of the ear.

Patented in U.S., EU and China

ACCURATE REPRODUCTION
Total harmonic distortion (THD) measures under 0.1% in the whole frequency range

LIGHTWEIGHT
Reduced driver weight designed to create a headphone that offers prolonged listening sessions

ERGONOMIC SHAPE
Ergonomically shaped driver structure with an increased active area

ULTRA-HIGH-RESOLUTION AUDIO
Upper-frequency limit of audio reproduction is 110,000 Hz

[MZ3] HYBRID MAGNET ARRAY
Symmetrically placed on each side of the diaphragm, the neodymium magnets are specifically arranged into a Hybrid Array to create the efficient
Isodynamic magnetic field required for a uniform activation across the whole diaphragm surface.

RINARO ISOPLANAR® DIAPHRAGM
Weighing only 0.16 g while having 4650 mm2 of active area.

[MZ3] FRAME
Fiberglass infused ABS.

ISOPLANAR® DIAPHRAGM MATERIAL
The switchback coil of the diaphragm is more efficient at reproducing lower frequencies and is positioned in the upper part of the driver.

The spiral coil of the diaphragm is more efficient at reproducing middle-high frequencies and is positioned directly over the ear canal enabling more direct sound waves to enter the ear without any time delays.

ISOMAGNETIC® EARCUP TO EARPAD COUPLING TECHNOLOGY
Rinaro's Isomagnetic® coupling technology makes switching earpads a breeze. It utilizes the demagnetizing field generated by the driver to secure the earcup in place, while simultaneously redirecting the magnetic field back into the driver, thereby enhancing efficiency.
TECHNICAL SPECIFICATIONS
Driver Type - Rinaro Isodynamic Hybrid Array Driver
Operating Principle - Open
Ear Coupling - Circumaural
Frequency Response - 8 – 110,000 Hz
Impedance - 32 Ω
Sensitivity – 105 dB SPL @ 1 V, 1 kHz
Maximum SPL - >130 dB
Total Harmonic Distortion (THD) - <%0.5 (in the whole frequency range)
Weight - 385 g (without earpads)

MZ3 DRIVER SPECIFICATIONS
PHYSICAL Geometrical Shape – Ovoid
Size – 102 mm x 73 mm
Weight – 82 g
Casing – Fiberglass infused ABS
DIAPHRAGM Type – Rinaro Isoplanar® [MZ3]
Active Area – 4650 mm2
Weight – 0.16 g
Acoustic Mass – 10.7 kg/m4
Lower Frequency Limit – 8 Hz
Upper Frequency Limit – 110,000 Hz
MAGNET Array Type – Isodynamic
Size – 75 mm x 49 mm
Magnetic Flux – 0.35 T

INCLUDED ACCESSORIES
Case: High-strength ABS plastic suitcase with foam inserts and leather handle
Two sets of earpads included: Duo Earpads + Angled Alcantara
Cable type: Premium Silver-plated or Copper PCUHD
Connector type: 2.5 mm, 3.5 mm (1/8 in), 4.4 mm, 6.3 mm (1/4 in), 4 pin XLR