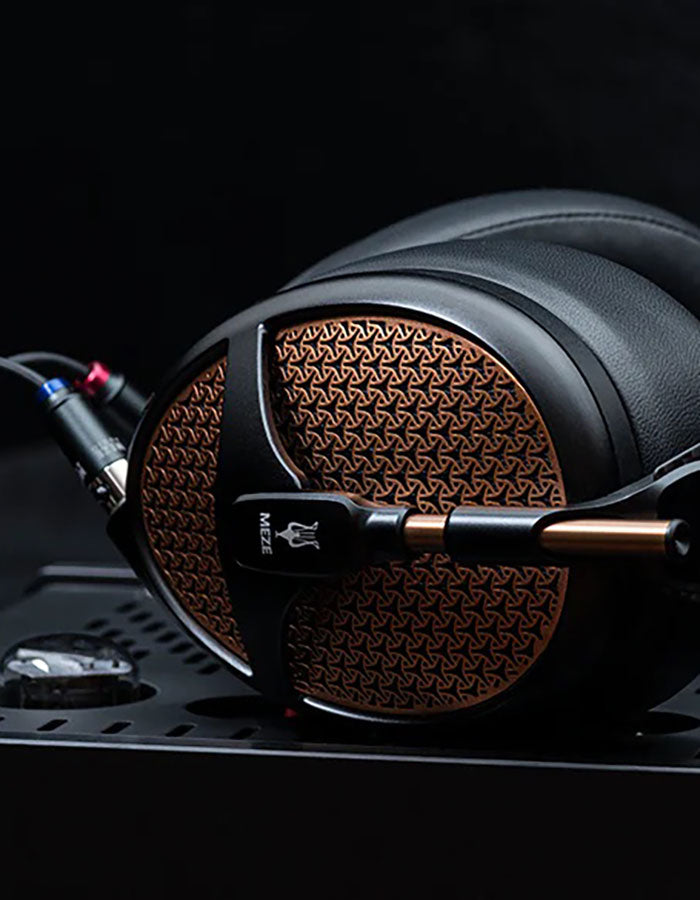 Meze Audio Empyrean Headphone
1 In stock
A blend of premium materials, exquisite craftsmanship and detailing that's unmistakably Meze, Empyrean is one of the most technologically innovative planar magnetic headphones in the world. "Empyrean was born from passion, curiosity and innovation. As a business, we have allowed ourselves the freedom to experiment and take risks in search of the perfect sound. To generate something truly remarkable, one must dare to explore, and that's what we did with Empyrean. We pushed and refined industry standards and achieved a true game changer for audiophiles."
Antonio Meze, Lead designer and Founder Meze Audio
Combines two independently shaped voice coils within the same diaphragm delivering more selective acoustic performace to the various areas within the structure of the ear.
Open-back, Circumaural headphones

Aluminum CNC frame

Isodynamic Hybrid Array Driver

Carbon fiber headband

Pressure distribution wings

Isomagnetic earpads

Anthropometric earcup shape
The Empyrean Driver combines individual switchback and spiral-shaped voice coils, their unique shapes allowing sound to be targeted with more accuracy around the natural form of the ear. This unique combination generates an increased exposure of direct sound wave frequencies over the 10kHz range and improves imaging and localization by decreasing the impact of shortwave time delays caused by diffused field relfections. This revolutionary patent pending concept sets a new standard in combining true natural sound with the enjoument of wearing your favorite headphone for hours on end.
Driver Type: Isodynamic Hybrid Array
Ear Coupling Circumaural
Frequency Response: 4 - 110,000 Hz
Impendance: 31, 6 ohm
Nominal SPL: 100 dB (1 mW/1kHz)
Maximum SPL: >130dB
Total Harmonic Distortion (THD): <0.1%
Weight: ~ 430g
Included Accessories:
-Case: High-strength aluminum suitcase with foam inserts
-Cable options:
2.5m OFC cable, ending with 6.3 jack
1.2m OFC cable, ending with 3.5 jack
2.5m OFC cable, ending with XLR connection
-Headphone termination: 2x4pin Mini-XLR
-Two sets of earpads included: one real leather & one Alcantara