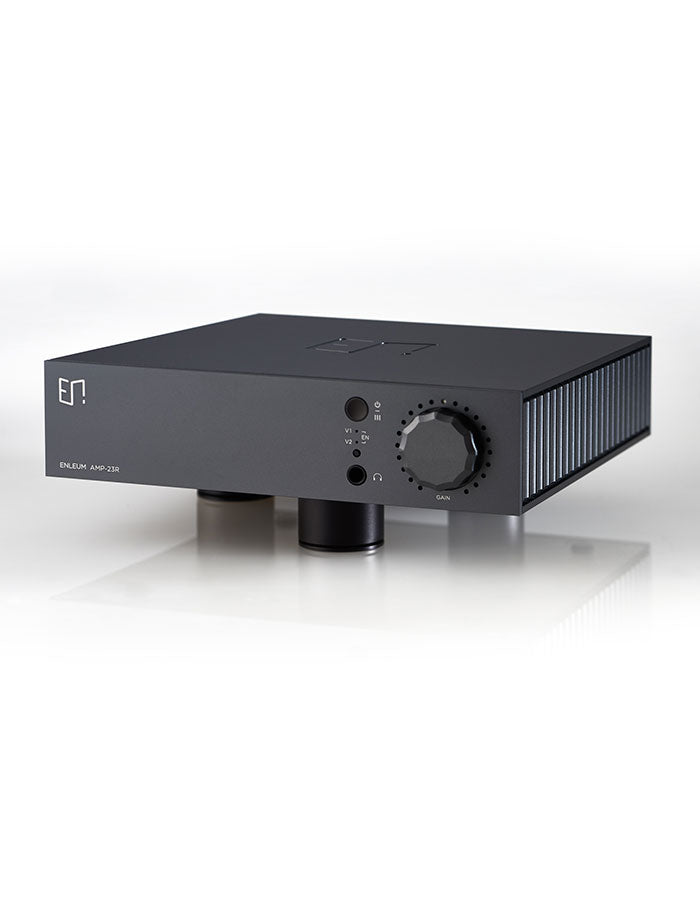 Enleum AMP-23R: Reference Compact Amplifier (New in box)
1 In stock
The AMP-23R is the newer and improved version of Enleum's AMP-13R. It includes a new circuit that truly enhances the existing performance. There have been drastic improvements on the PCB circuit board design as well as new internal components, and upgraded the JET2 Bias design.
On several reviewers "Best Sounding Amplifier Ever" lists.
As new, with remote, full manufacturer's warranty
With a new and advanced PCB artwork, the circuit employs all discrete transistors with zero negative feedback and features an ultra-fast and ultra wide frequency response. All these advanced technologies are concentrated into a compact module, called "Ensence", which takes its important role at the input of the amplifier. The Ensence module then delivers its incoming music signals to output circuits through a precise attenuator that sets the lossless amplification factor, or gain. The AMP-23R employs the same transformer from the AMP-13R, but it employs an all new power supply circuit design, in order to provide higher current and less noise level performance. Now with new software architecture, a single MPU controls all the functions and circuits of the AMP-23R, resulting in significantly reduced number of the parts, and an improvement in efficiency throughout the circuits. The Ensence Circuit also allows a zero loss amplification factor change, which means one can fully experience every single detail and nuances of the music source direct to the headphones.
Maximum Power: 25 Watts | 45 watts | 4 watts
Gain: 22.5 dB max (Speaker, Headphone High) | 7 dB max (Headphone Low)
Gain Control: MPU Controlled Stepped Attenuator
Frequency Response: 10 Hz ~ 100 kHz
Input Impedance: 10 k (Voltage) | 10 (ENLINK)
Input: 2 Voltage (RCA) | 1 ENLINK (BNC)
Output: 5 Way WBT Speaker Binding Post | 1/4" Headphone Out
User Interface: One Button & Gain Phase Control | Remote Controller
Power Consumption: 300 watts (Idle) | 100 watts (Max)
Dimensions: 230 mm (W) x 230 mm (D) x 55mm or 82.5 mm incl. Isolation (H)
Weight: 4.0kg (net) | 4.5kg (shipping)