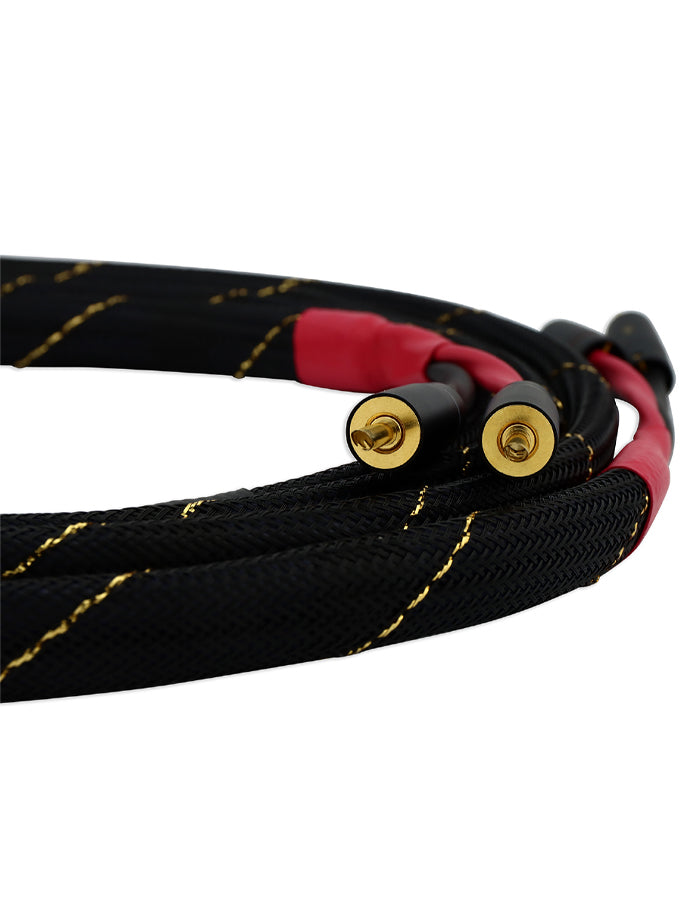 AAC SE2 Speaker Cable Pair Gold Banana - 10' Pair, Last One!
LAST ONE, SPECIAL DEAL! AS NEW 10.0' PAIR.
Our Gen 2 Signature Series speaker cable features a dual run of SC-5, creating a robust 11-gauge design. Silver-plated, ultra-high purity OFC conductors terminated with high-performance gold-plated Beryllium Copper Z-Bananas. SE2 is custom terminated with a solderless connection, infused for ultimate conductivity with Furutech's Nano-Liquid Contact Enhancer, and bundled in a durable, attractive Uptown Gold Techflex jacket. Single wire construction. Hand Crafted Custom Shop Assembly is performed one cable pair at a time, in San Diego, California, USA.
IMPRESSIVE SONIC PERFORMANCE
The new SE2 speaker cable exudes a custom-shop look and feel, combined with an innovative design. A double, shot-gunned run of our award-winning SC-5 cable creating formidable 11-gauge conductors. This heavier gauge speaker cable delivers impressive sonic performance, improving frequency extension, dynamics, body, weight, and authority. A true premium quality speaker cable, SE2 offers a hand-crafted build and aesthetic that extends the proven performance of our SC-5 Classic. Outfitted with high-performance gold plated ETI Copper Link bananas, with solderless, Nano-Liquid infused terminations designed for zero signal loss at the critical cable to connector junction. The result is a superbly refined presentation that competes favorably with boutique shop cables costing several times its modest price.
ETI RESEARCH COPPER LINK Z BANANAS
The new Copper Link Banana connector combines up-to-date styling with the reliability of Beryllium Copper (BeCu). The connector uses a sawtooth style, often referred to as a Z-plug or BFA connector. This unique shape combined with the natural resilience of BeCu creates a near seamless connection between the plug and terminal. Matte black aluminum housing yields a streamlined look while providing excellent shielding properties, eliminating impacts on sound quality. This unique connector provides a double strain relief system to establish a more reliable and secure connection. The bare wire of the cable is secured with twin screws into the chamber at the base of the sawtooth, enabling our solderless connection feature. Copper Link Banana offers reliability for the life of the cable, and superb quality sound.