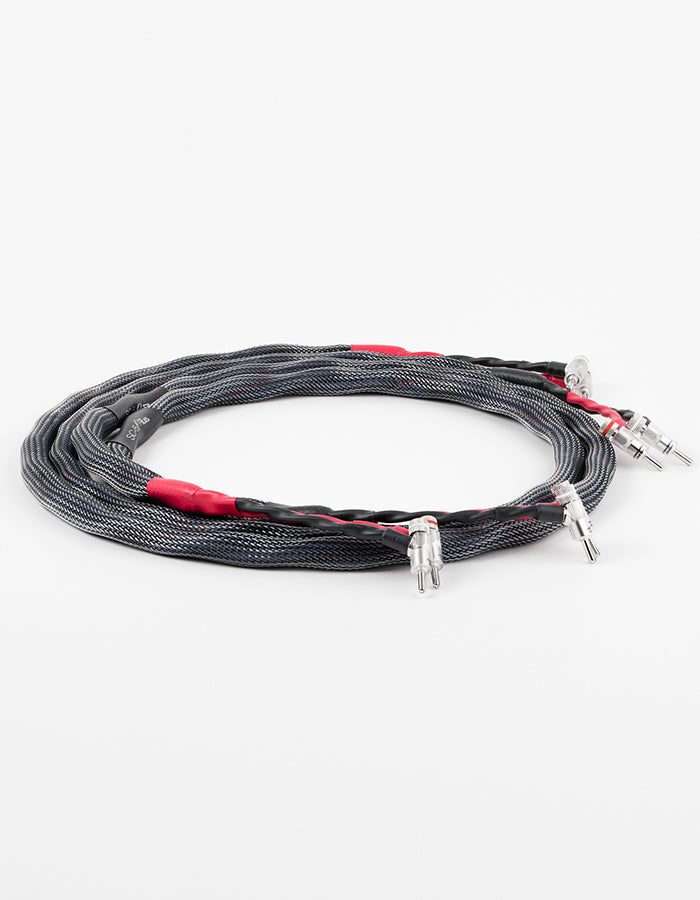 AAC SC-5 ePlus Cryo Double Bi-wire Speaker Cable Pair Rhodium Banana
Two pairs of SC-5 ePlus cables connected at the amp end, creating a robust 11-gauge x4 design for each channel. Enhanced "e Series" cable, featuring a dual run of SC-5, plus a single 28awg UPOCC conductor on the positive poles, forming an 11-gauge design. Patented process deep cryogenic treatment, solderless, nano-fluid infused terminations, and all conductive surfaces treated post assembly with Kontak ECO3x. High performance, pure copper spades, durable Techflex sleeving. Single wire construction. Hand crafted in San Diego, California, USA.
PUSHING THE PERFORMANCE ENVELOPE
SC-5 ePlus offers the custom-shop look and feel of our SC-5SE, combined with the evolutionary design of our cryogenically treated "e Series".  A double, shot-gunned run of SC-5 gets a new twist, in a spiraled configuration designed to reject RFI. We also add a 28awg run of single crystal copper to each positive pole for improved treble sweetness and greater bass control, midrange transparency, and more! Patented process deep cryogenic treatment with solderless, Nano Liquid enhanced connections at the cable / connector joints advance conductivity, pushing the performance envelope. Outfitted with high-performance rhodium plated pure copper spades.
FURUTECH FP-202(R) HIGH-PERFORMANCE LOCKING BANANA
The Furutech FP-202(R) locking banana plugs are designed for convenience and simplicity. The mechanism easily and securely locks the part firmly in place on the post. This performance-oriented banana features a high-tech three step plating of rhodium over silver over eutectic cast copper. FP-202 are also stackable, so a second banana plug can be mounted on the rear. Furutech's patented α (Alpha) process demagnetizes, and cryogenically treats the part, enhancing audio signal transmission resulting in greater clarity and resolution, blacker backgrounds, and an improved sense of size, shape and scale within the soundstage. Choose FP-202(R) for a more neutral balance to your sound.
THE CABLE AT THE CORE
Multiple stranded, silver-coated 14 gauge OFC copper conductors insulated with an ultra-low loss foamed Polyethylene dielectric, in a low capacitance design. Vibrational absorbing fill, and a durable midnight blue PVC jacket round out the design.
| | SC-5 Classic | SC-5 SE | SC-5 e2 | SC-5 ePlus | Statement e SC |
| --- | --- | --- | --- | --- | --- |
| Oxygen Free High Purity Silver Plated Copper Conductors | | | | | |
| OHNO Continuous Cast Hybrid 7N Pure Copper and Silver Plated Copper Conductors | | | | | |
| 14 Gauge Conductors | | | | | |
| 11 Gauge Conductors | | | | | |
| Musical Sounding Foamed Polyethylene Insulation | | | | | |
| Woven or Mesh Techflex Jacket | | | | | |
| High Performance Eichmann Technology Kryo Bananas and Kryo Spades | | | | | |
| High Performance Furutech Locking Bananas and Spades | | | | | |
| Patented Process Deep Cryogenic Treatment by Cryogenics International | | | | | |
| Solderless Nano Liquid Enhanced Wire / Terminal Interface | | | | | |
| Audiophile Grade Cardas Quad Eutectic Silver Solder | | | | | |
| All Conductive Surfaces Enhanced with Kontak ECO3x | | | | | |
| Custom Shop Assembly by Phil Martinez | | | | | |